Discover more from Consumer Startups
How your favorite startups found product-market fit and got their first 1000 customers
Over 13,000 subscribers
🗞 From gamer community to 3D virtual event platform
+ What if everyone gets to invest in startups?
Hey there! Welcome to my email newsletter. My name is Leo Luo, a student entrepreneur at the University of Michigan. I write about founder stories, trends, fundraising, and unique behaviors in the consumer startup space. 
Feel free to check out my previous posts here.
---
🔥Story time
From gamer community to 3D virtual event platform

(Image credit: Gamerjibe)
The virtual event space is fascinating to me. I had a lot of fun writing about Icebreaker last week, and this week I got to learn more about how other startups are approaching this space. For this piece, I chatted with Joe Lee and Daniel Valentino, CEO and COO at Gamerjibe, which is a 3D virtual event platform. Shout out to Zibo for connecting us.
🥚Genesis and MVP
Joe founded Gamerjibe as a means to better connect gamers online. As a gamer himself, he was longing for a community to meet and develop new friendships with other gamers. It began as a side project for Joe and a couple of his engineering friends to create a platform for gaming groups - the MVP was simply a discovery platform for gamers to find different gaming communities based on their interests.
From there, they added features to allow gamers to connect with others through actually playing games. They built tools that enabled game developers to embed their web games on Gamerjibe's platform. The key learning for Joe was that most of these game developers were from the indie game development space so they didn't have a lot of money to actually spend on tools. Because of that, they had to rethink about how to grow the startup with a better business model.
⏎ Pivot
Joe and his team decided to pivot and focus on creating their own game-like virtual environment using the same tools that they had built for the game developers. The first experiment they ran was a networking event on the platform to learn more about their users and figure out how to best connect gamers. In January this year, they hosted their first community event on the platform with a couple of influencers in the gaming and eSports space. Even though it was not the smoothest experience, the event still generated a lot of interest from the attendees. 
It was an opportune time for Gamerjibe because people had just started to become more aware of COVID and more and more in-person events were starting to get canceled. After the first event, they decided to try something different and run more business-oriented networking events using their virtual solution. And they worked! Those events gathered a lot of attention and were starting to become more viral on social media through WOM (a lot of LinkedIn posts). They didn't have the perfect experience yet, but people were still interested enough to want to host more events with them, a proof that they were on to something.
💡 Use cases 
In general, Gamerjibe is targeting three types of markets - physical events that were canceled by COVID, physical events that wanted to extend their reach through another virtual solution, and virtual event market. Currently, they have been able to attract many different types of users from militaries to educational institutions. 
🚀 Vision and future of Gamerjibe
According to Joe and Daniel, their vision for Gamerjibe is to create a platform for everyone, from large corporations to individuals, to easily create and attend events just on the web browser without the need to download or install anything. By doing so, they are hoping to dramatically reduce the need for physical events and increase the ability for people to interact with each other in a virtual environment.
I am a huge proponent of leveraging games and gamification to disrupt current industries (e.g. concerts, recruiting, and online learning). Would love to see more companies like this.
What if everyone gets to invest in startups?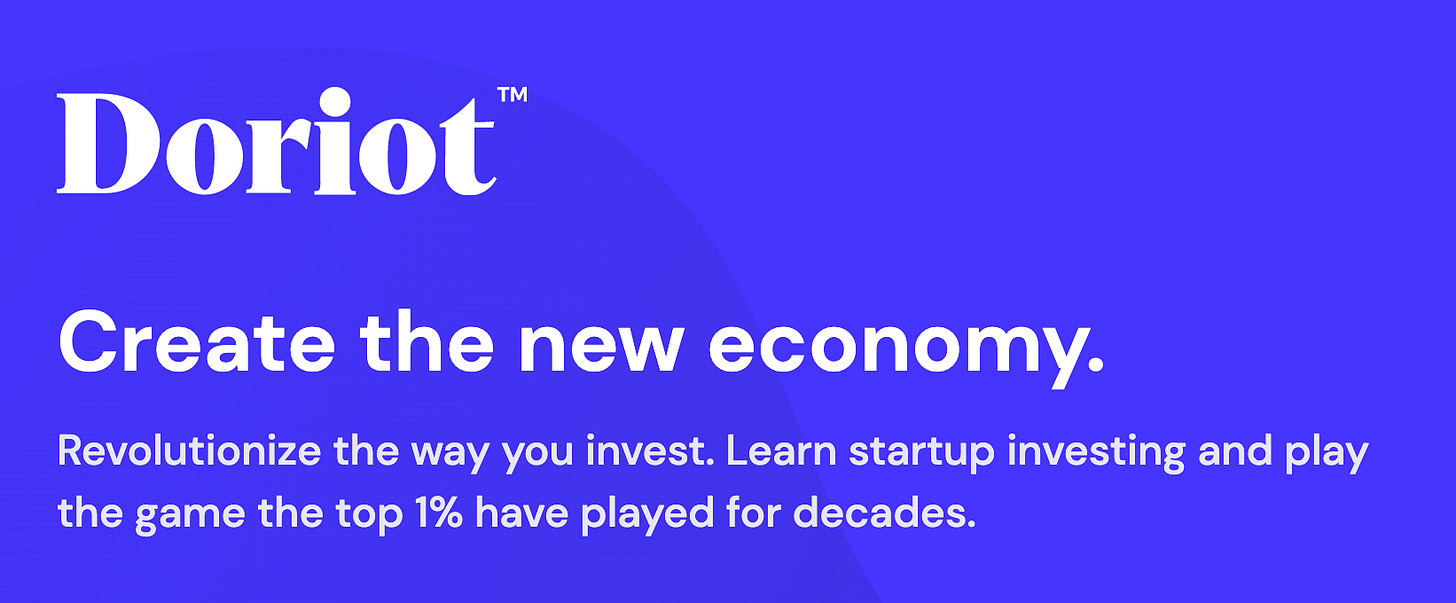 (Image credit: Doriot)
Equity crowdfunding has been gaining popularity over the last few years. It provides an alternative way for a startup to raise money. Gerry Hays, CEO at Doriot and a professor at Indiana University, might be one of the people best positioned to bring startup equity crowdfunding to the mainstream. As a 5X founder (sold 3 of them) and a 25X investor, he is an absolute beast in the startup world. I had an opportunity to talk with him last week to learn more about his vision of democratizing startup investing.
🌱 Genesis
There are two main reasons why Gerry wanted to create a startup equity crowdfunding platform. First, from his personal experience with raising money, he has seen that the current VC system is skewed towards LPs (mostly institutional investors who are funding those VCs) instead of entrepreneurs. "A lot of VCs are earning their incomes from management fees and not on taking big and bold swings because if they make bad decisions, they are not going to be able to raise a second fund and thus going out of the business," Gerry explained. Besides the misaligned incentive structure, Gerry also believes that most people, especially early adopters of a product should be able to invest in the product and profit from it. 
👥 Challenges of existing platforms
According to Gerry, even though there are many existing players in the equity crowdfunding space, improvements in the model are required for mass adoption. Most only serve as a platform to facilitate what's already happening in the market. You could get your company listed on the platform, but it is often still up to you to find those investors. Another flaw is that asking people to make an investment decision is paralyzing. Angel investors are often paralyzed because they feel like they need to know all the information, but in reality, startup investing is about working with imperfect information, no different from placing a bet in Vegas 🎰.
🔑 Doriot's approach
Gerry is imagining a Venture Capital Cooperative model that treats small investors like venture partners. The Coop does the initial vetting for all the startups that would be listed on the platform. Venture partners will have to use the information given to make an investment decision in a short timeframe. The catch here is that every user has to invest in at least 25 companies per year, regardless of the investment amount per company. By investing in at least 25 companies, venture partners could maximize the potential that one company will win and cover the loss of startups that may have failed. The startups on the platform only deal with one investor, Doriot, who will also fill the round if it doesn't reach the target amount. Venture partners will not own any equity in the company but the derivative of that equity. 
This approach could benefit both startups and retail investors. Startups will get the funding it needs and also a ton of new users while retail investors get to safely participate in the most exciting part of our economy.
🐓🥚Chicken and egg problem
At its essence, Doriot is a marketplace play. The main challenge with a marketplace business is the chicken and egg problem. Gerry is focusing on the demand side by educating the users to generate demand. They are going to release a gamified education product this fall. Sign up on Doriot's website if you would like to stay updated.
---
👨‍💻What I've been reading
---
🏀Who is ballin' this week
---
💡My random startup idea
Pain Point - People don't know who the best people to reach out in their first-degree or second-degree network for certain questions or domain expertise

Potential solution - a virtual AI bot that uses NLP (GPT-3 perhaps 😈) to analyze LinkedIn connections and suggest who the best person to talk to in your network
---
😍Jobs
---
💬Consumer Startups group chat
I am starting a group chat for early-stage founders and investors in the consumer space. If you are interested in brainstorming ideas, sharing insights, and connecting with other like-minded people, please fill out this form. It will launch officially in the next few weeks. Please share this link with your friends if relevant.
---
Feedback
It takes me about 10 hours a week to prepare each newsletter. If you have enjoyed Consumer Startups so far, please reply to this email! I would love to hear from you and get some feedback so I can deliver even better content to you in the future.
---
Stay steezy, team