Discover more from Consumer Startups
How your favorite startups found product-market fit and got their first 1000 customers
Over 13,000 subscribers
🗞 Let me know how I can be helpful ;)
+ Did GPT-3 write this?
Hey there! Welcome to my email newsletter. My name is Leo Luo, a student entrepreneur at the University of Michigan. I write about founder stories, trends, fundraising, and unique behaviors in the consumer startup space. 
Feel free to check out my previous posts here.
---
🔥Story time
Let me know how I can be helpful ;)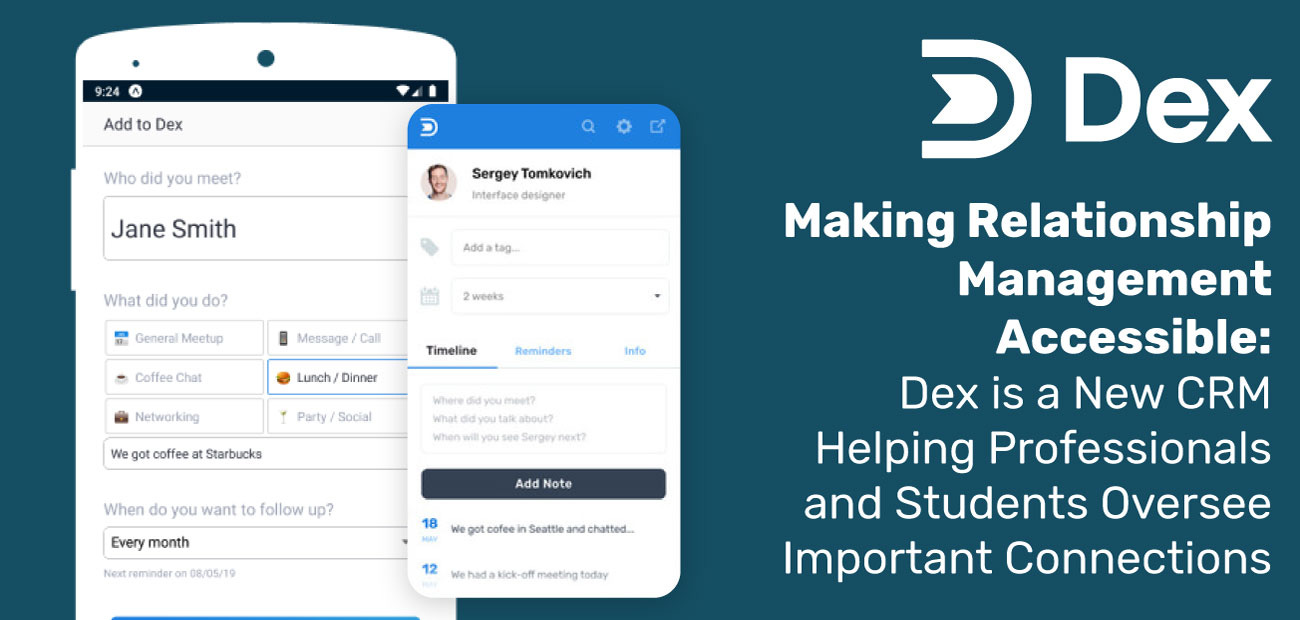 (Image credit: Dex)
Networking is hard but managing relationships can be even more frustrating. I have been following the personal CRM space for a while now, and this past week, I had the chance to chat with Kevin Sun, the CEO of Dex, to learn more about how he is tackling this space.
🥚 Genesis
Kevin had tried a lot of other ideas before Dex (YC 19). After interning at Twilio in college, he started working on a startup with some other Twilio people, exploring different ideas in the B2B space. They eventually decided to split after a year and a half. Subsequently, Kevin joined a startup in the valley while still exploring other ideas on the side. One of the spaces that he dove really deep into was personal relationship management (aka personal CRM). Before building Dex, he had tried out many different tools such as Airtable, spreadsheets, or Notion to manage his network, especially his professional relationships. He found them hard to use because he would make a note on different interactions, but he never really came back to the spreadsheet.
💡 Unique insight and MVP
The unique insight that Kevin uncovered was that personal CRM never worked because it was never accessible enough - it was never in the right place at the right time. Kevin wanted to build a tool to address this accessibility problem. 
The very first version of his MVP was an email bot that would send you an email before and after a meeting (based on the calendar). The purpose of the email bot was to give the user a brief overview of their past interactions before the meeting and ask the user to leave a note for next time after the meeting. It was not a perfect product because a lot of users wanted a lot more manual control and not everything was documented in the calendar. Nevertheless, it was useful for a core set of users, giving Kevin the confidence that the general space was worth looking into. 
Since the MVP, he and his team have shipped out a web app, a chrome extension, and a mobile app.
🔑 Differentiation
There is a long tail of personal CRM startups in the market, most of which are mobile apps. They live on top of phone contacts and are meant to optimize for a mobile-first experience. Dex has a different goal. It is a more conventional web application that was complemented by the chrome extension and the mobile app. This is an intentional product decision since the target user is someone who has to do a lot of work with relationships, someone who wants to edit 50 contacts and is obsessed with keyboard shortcuts. "I think if you look at this space, we are the only product that is available across platforms and also has a user experience that might feel familiar if you are already using tools like Notion and Airtable," Kevin explained.
🚀 Future of Dex
The grand vision of Dex is to become the best solution for managing contacts and relationships. "I think we can get to a subscription number that is comparable to LinkedIn Premium, which has millions of subscribers. In ten years, the vision is to get anyone who meets people for work to be on Dex," Kevin explained with excitement.
In the near future, there are two main features that are in the pipeline for Dex. The first feature is a two-way sync, which allows users to mirror contacts on their smartphones (e.g. iPhones) into Dex and vice versa. Any changes made on either the phone or Dex will be reflected on the other platform. Two-way sync will ensure a more seamless experience for users. Another important feature down the line is email integration, which will help users to track email interactions better on Dex.
Exciting!
Did GPT-3 write this?

(Image credit:
gwern.net
)
I am not really a tech blogger and I don't follow deep tech religiously, but this time, I am definitely geeking out about a new AI milestone - OpenAI just recently announced an API for accessing new machine learning NLP model called GPT-3. I wasn't there to experience the release of Netscape Navigator in 1994, but I would assume GPT-3 might have a similar impact. For now, they only have a private beta, and unfortunately, I am still on the waitlist. If someone can give me a warm intro to Greg, that would be amazing ;)
GPT-3, in layman's words, is basically the largest language model ever created, with 175 billion parameters. By comparison, Turing-NLG (Microsoft) is only at 17 billion parameters. The model was trained on 499 billion data points (crawl of the internet, wiki, books).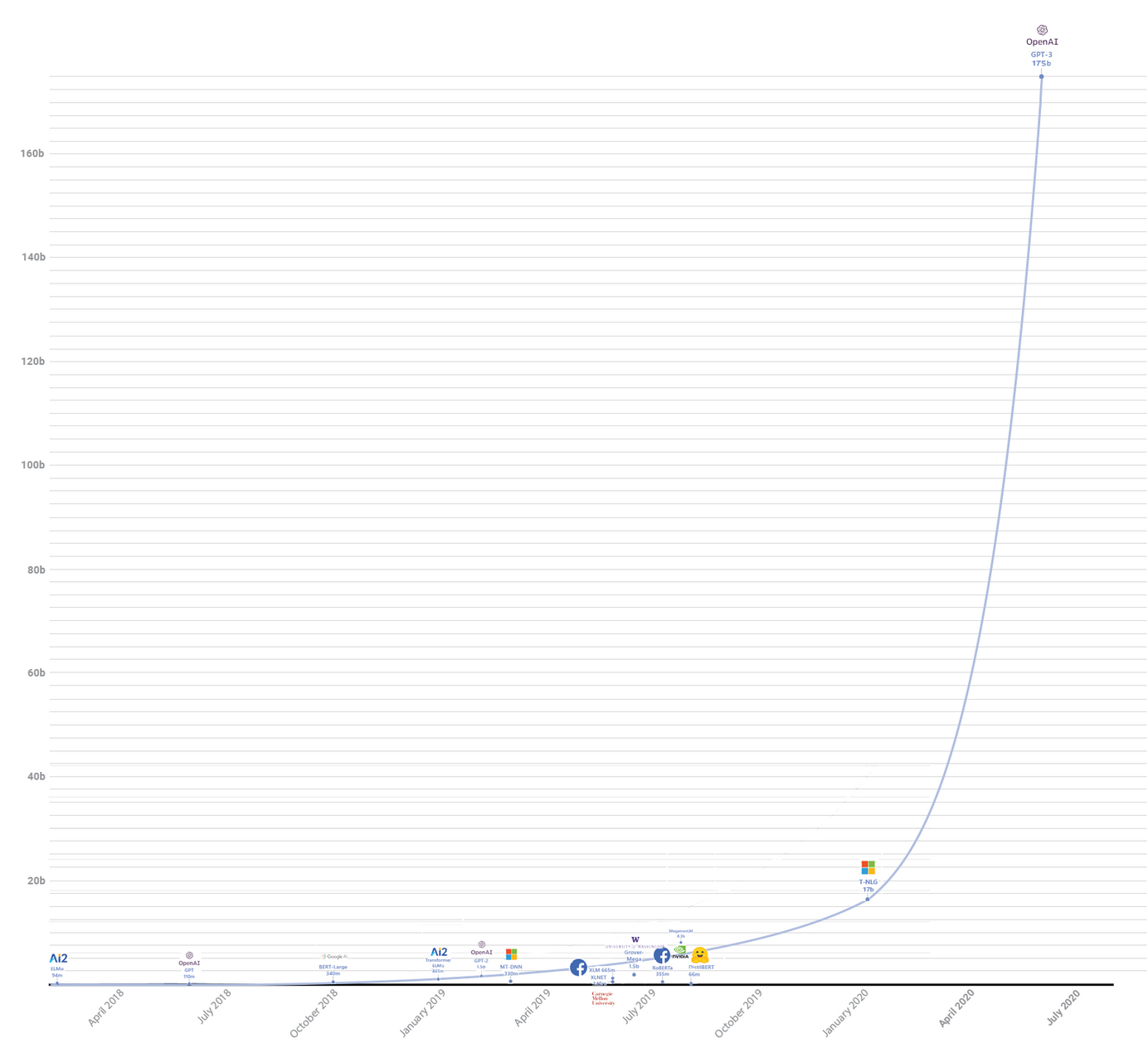 It is important because different from other ML models, GPT-3 doesn't need to be shown that many examples to understand what is going on. Personally, I am excited about it because I believe there will be a lot of consumer-facing applications that can leverage this API. Here is a list of some potential use cases I have found:
Personalized chatbot ( e.g. potential use case for mental health)

Creative writing generation

Parsing text into spreadsheet tables (could create some productivity tools)

Summarizing email discussions and transcripts

Expanding content from bullet points

Make sense of legal documents  (translate convoluted legal terms to layman's terms)

More powerful language translation (Google translate on steroid)
Finally, please take what I wrote with a grain of salt. I am not an AI researcher, and there are still some limitations to this model.
---
👨‍💻What I've been reading
---
🏀Who is ballin' this week?
---
💡My random startup idea
Pain Point - social interactions are lacking for remote work since there is no watercooler break in a virtual environment

Potential solution - Virtual playground or Lunchclub for remote work?
---
💬Consumer Startups group chat
I have gotten a lot of interest in this group chat idea including many investors and several entrepreneurs who have had multiple exits. If you are interested in brainstorming ideas, sharing insights, and connecting with other like-minded founders and investors, please fill out this form. It will launch officially in the next few weeks. Please share this link with your friends if relevant.
---
Go get that W 🚀