Discover more from Consumer Startups
How your favorite startups found product-market fit and got their first 1000 customers
Over 13,000 subscribers
🔑 Newsletter #26 - So .. wanna do a dance-off?
+ Caitlin Strandberg (Principal at Lerer Hippeau)
Hey there! Welcome to my email newsletter. My name is Leo Luo, a student entrepreneur at the University of Michigan. I write about founder stories, trends, fundraising, and unique behaviors in the consumer startup space. 
Just started using Twitter recently - follow me @_leoluo
---
↺ What you might've missed in the last three weeks
10/18 - Story of Stadium Live (digital community for Gen-Z sports fans) + Jordan Cooper (GP @ Pace Capital)

10/4 - Story of HAGS (high school social app) + Beth Ferreira (GP @ FirstMark)

09/27 - Story of Fold (earn Bitcoin when you shop) + Jonathan Friedman (GP @ LionBird)
---
🍽 Today's menu
Startup story - DanceFight (Mobile video competition platform)

Investor POV - Caitlin Strandberg (Principal at Lerer Hippeau)

What I've been reading - 6 articles about startups and investing + one special shout-out

Who's ballin' this week - 6 new fundraising/developments in B2C space

Jobs - 8 full-time jobs and internship postings

Feedback - help me to deliver better content to you
---
🔥 Startup Story
So .. wanna do a dance-off?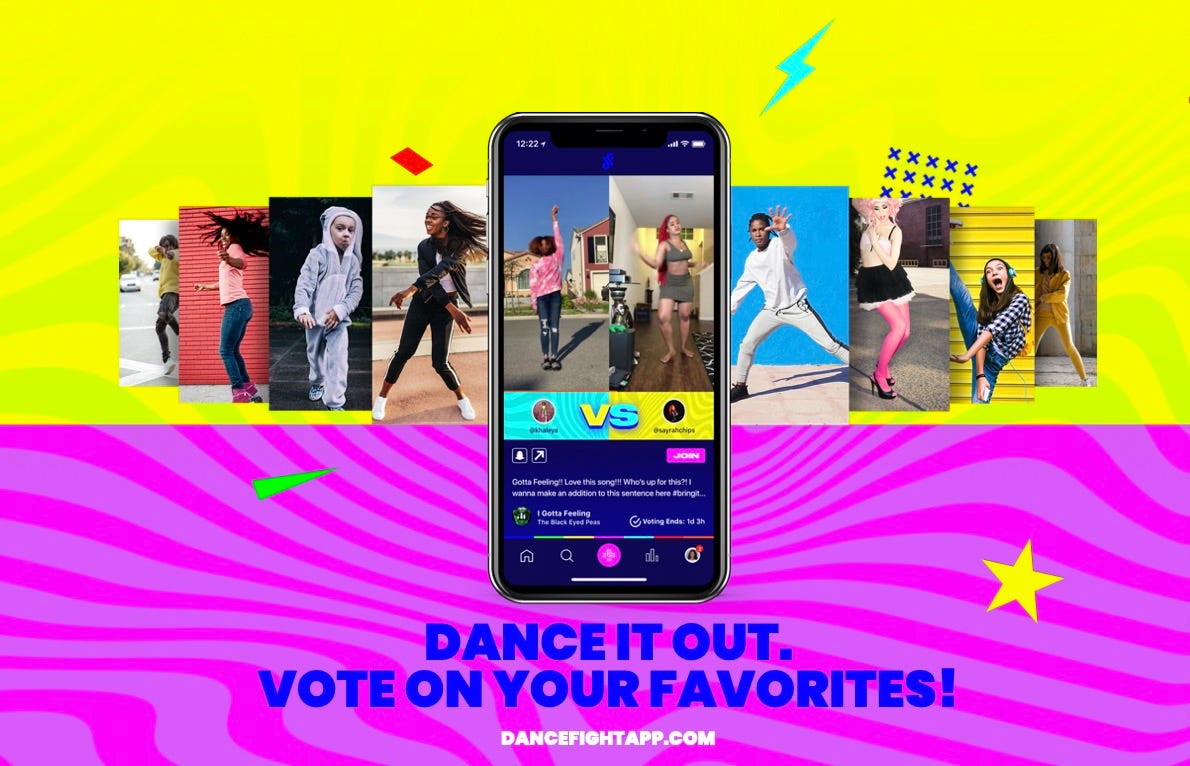 (Image credit: DanceFight)
The pandemic has put a halt to most fun activities, but DanceFight has been helping people recreate fun moments remotely. DanceFight is a mobile dance competition platform. Users can watch, challenge, and vote on tons of original dance videos.
The startup just closed a $2M seed round from investors such as Quake Capital Partners, VSCO's CEO, and many more. I had a lot of fun catching up with Rich Sloan (Co-Founder at DanceFight and a fellow Wolverine 〽️) to learn more about the story behind this mobile competition app. 
🌱 Genesis 
Prior to DanceFight, Rich's co-founder Ryan Jordan ran a nonprofit called Amala Foundation that brought youth together from all over the world. Despite a significant language barrier, everyone bonded over music and dance. Jordan saw an opportunity to create a platform that allowed people from around the globe to connect through dance. 
👥 Rich joining the team
Before DanceFight, Rich co-founded StartupNation and was a partner at a seed venture fund. He found himself smiling at the idea when he heard the pitch for the first time at South by Southwest. He decided to collaborate with Jordan on the startup for three reasons. First, the value proposition is simple, and he understood it right away. Second, he had a strong emotional response when he first heard it, and observed others having a similar visceral reaction. Finally, the timing felt right with the rise of startups like Musical.ly (now known as "TikTok").  
💡 Unique insight & Vision
There are many types of social video platforms out there, with TikTok being the biggest, but Rich and Ryan want to differentiate DanceFight by creating a platform that gives the majority of users more of an active role.
"The experience of being a viewer on the app is one where you are actively determining outcomes as a voter. This gamification element brings a whole different level of engagement. We are creating a competition platform, and dance is just the starting point. We will evolve it to include all kinds of competitive head-to-head content such as skateboarding and even basketball trick shots," Rich explained.
🚗 Product Journey
First phase - In order to stay laser-focused on required features for an effective MVP, DanceFight's team worked closely with a former head of product at Pandora. They decided to go with iOS first in the US market where they could more readily get all the music licenses they needed. The first feature set included basic asynchronous dance battling, the ability to send out video challenges to people on and off the platform, and a very basic point-earning model where users earn points through activities in the app.
Process : 

3 months of private Beta with 100 people

2.5 months of public Beta (with no marketing)

Key learnings:

App development is always going to take longer and be more expensive than estimates. 

Get to real user feedback as quickly as you can, even if it's not perfect.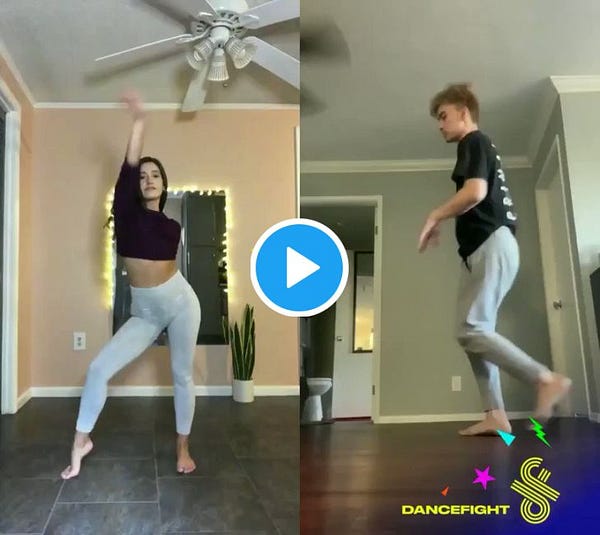 (example content on DanceFight)
Second phase - Marketing became the central focus after the team finished the public beta. After a couple of months, they got some encouraging results:
People on average opens the app five times a day

Over half of the user base is behaving as voters

On average, people challenge three other people each time they record a dance
Some hypotheses they were able to validate:

Highest quality users come from Instagram instead of TikTok (quality defined as engagement)

People want to be involved and express their opinions through voting (based on engagement)

People want to challenge others

A meaningful percentage of the community becomes creators  (at about 12% - higher than the industry average of less than 10%)
👥 User personas
"Initially, we're targeting the dance community, specifically dance enthusiasts and battlers. Diversity is also a huge priority for us. We want to make sure that this is an extremely inclusive and respectful community that we put together. Most of our users are Gen-Zers, up through the early 20s, " Rich elaborated.
🤔 Challenges
Cash intensive business

"Running a business like this is very cash intensive because of development and marketing. This is a business that has to scale so you have to be aggressive with it. This means you are almost continuously out raising money."

Fundraising was tough when the pandemic first started

"COVID really dinged our seed round fundraising effort when the shock first occurred. As people started to revitalize their investment strategies, they realized apps like ours are exactly the kinds of businesses that will thrive in this new reality. We went out looking for $1.5M, and we are finishing up the round oversubscribed at $2M."
Check out DanceFight in the App Store, and coming soon to the Google Play Store!
---
🔥 Investor POV
Caitlin Strandberg (Principal at Lerer Hippeau)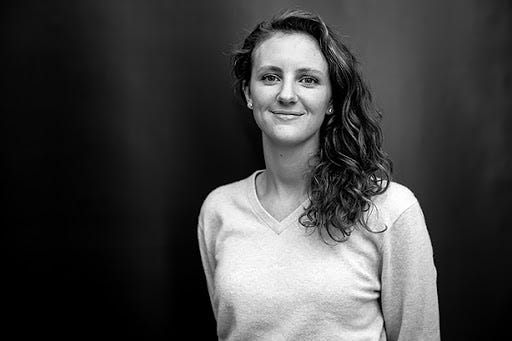 (Image credit: Caitlin Strandberg)
Caitlin Strandberg is a Principal at Lerer Hippeau, a leading early-stage VC based in NYC. She has also served on investment teams at FirstMark and Flybridge Capital Partners. Prior to VC, she led business development at two startups, LearnVest (acquired by Northwestern Mutual) and Behance (acquired by Adobe). 
😍 Consumer trends that excite Caitlin
Gen-Z investing

"I love Gen-Zers. They are exciting and compelling new consumers. Compared to the Millennials, they care about very different things and have a different buying habit.

One exciting company is called Parade. They are a new D2C underwear company that celebrates self-expression. Another interesting one is Studs, which is a next-generation ear-piercing company."

Customization and personalization

"We are seeing that a lot of customers are more and more interested in products that are made for them.

One example is Prose, which is a personalized hair care company. They ask you to fill out a detailed survey, and they can track many factors, including the pollution level as well as water quality in your area. You can pick your sense and the frequency in which you use the product. They are a fabulous company that I like a lot."

Health and wellness

"Health and wellness have become the consumer's number one priority. One reason is that we are living in the backdrop of a global health crisis, but we are also seeing the constraints and limitations of our existing healthcare system. Customers are taking their health and wellness into their own hands and thinking more preventatively than ever.

One interesting company is Monument. It is an online solution for addiction, particularly around alcohol. This is a company that's reinventing what alcohol addiction support looks like for a digital world. Not only is it moving online and building communities, but it is also updating and revamping the actual tools and services to get to sobriety."
🔥 Most exciting consumer founders she's recently met
"Topical's founders are fabulous. Topical is a next-generation skincare company for folks with chronic conditions of eczema, psoriasis hyperpigmentation. The founders are women of color, and they both had skin conditions throughout their childhood. They realized many people like them were so underserved by the existing tools and tools and products.
They decided to address this massive gap in the market and create a brand. They are stellar Gen-Z founders - Claudia had been working in the Stanford Dermatology labs since she was 14 years old. Olamide was a college athlete and had experience launching a hair care line. They both represented founder-market fit."
💡 Advice for early-stage B2C founders
Be aware of market timing and take advantage of it

"Because of the pandemic, e-commerce has been accelerated by five to six years. This is a very unique moment in time where we will not go back to the old way. The challenge for early-stage founders is what are you uniquely suited to do that incumbents are unable to do? It is important to be aware of this market timing and build a best-in-class company for the future."
Find your support group

"It takes a village to build a company and your founder job can be a lonely one so make sure that you have a support system to share questions and concerns."
📚 Books that impacted Caitlin the most professionally and personally
"One is The Innovator's Dilemma by Clay Christensen, which is about the disrupting theory and competing with existing companies. Another is The Everything Store, which is the story of Amazon. I read this on a vacation a couple of years ago and I couldn't put it down. It talks about how Amazon made some of the pivotal decisions that formed what it is today.
On the personal side, Ready Player One is a fun book. I love sci-fi, and it opened my eyes to what you can do with augmented reality and virtual reality."
---
👨‍💻 What I've been reading
Special shout out to Entertainment + Tech Newsletter
My buddy Matt (entrepreneur & ex-Google APM) is working on a super cool substack called Entertainment + Tech.  Each week Entertainment + Tech covers an interesting way the two industries are colliding and where they might go. Check it out and subscribe here.
---
🏀 Who is ballin' this week
---
😍 Jobs & Internships
Fulltime - 
Internship - 
---
🙏 Feedback
If you have reached this far, could you please take 30 seconds to fill out this quick survey? It will help me to improve the newsletter and deliver you more interesting content in the future. Means a lot to me ♥️.
---
Huge shout out to Michigan football team!! Great W last night.