Discover more from Consumer Startups
How your favorite startups found product-market fit and got their first 1000 customers
Over 13,000 subscribers
🔑 Newsletter #27 - Dumping diet for good
+ Paul Murphy (Partner at Northzone)
Hey there! Welcome to my email newsletter. My name is Leo Luo, a student entrepreneur at the University of Michigan. I write about founder stories, trends, fundraising, and unique behaviors in the consumer startup space.
Just started using Twitter recently - follow me @_leoluo
---
↺ What you might've missed in the last three weeks
10/25 - Story of DanceFight (mobile competition platform) + Caitlin Strandberg (Principal at Lerer Hippeau)

10/18 - Story of Stadium Live (digital community for Gen-Z sports fans) + Jordan Cooper (GP @ Pace Capital)

10/4 - Story of HAGS (high school social app) + Beth Ferreira (GP @ FirstMark)
Check out all the startups and investors I have featured in the past on 

this Notion board

.
---
🍽 Today's menu
Startup story - Wellory (personalized nutrition app)

Investor POV - Paul Murphy (Partner at Northzone)

What I've been reading - 5 articles about startups and investing

Who's ballin' this week - 5 new fundraising/developments in B2C space

Jobs - 10 full-time jobs and internship postings

Feedback - help me to deliver better content to you
---
🔥 Startup Story
Dump dieting for good.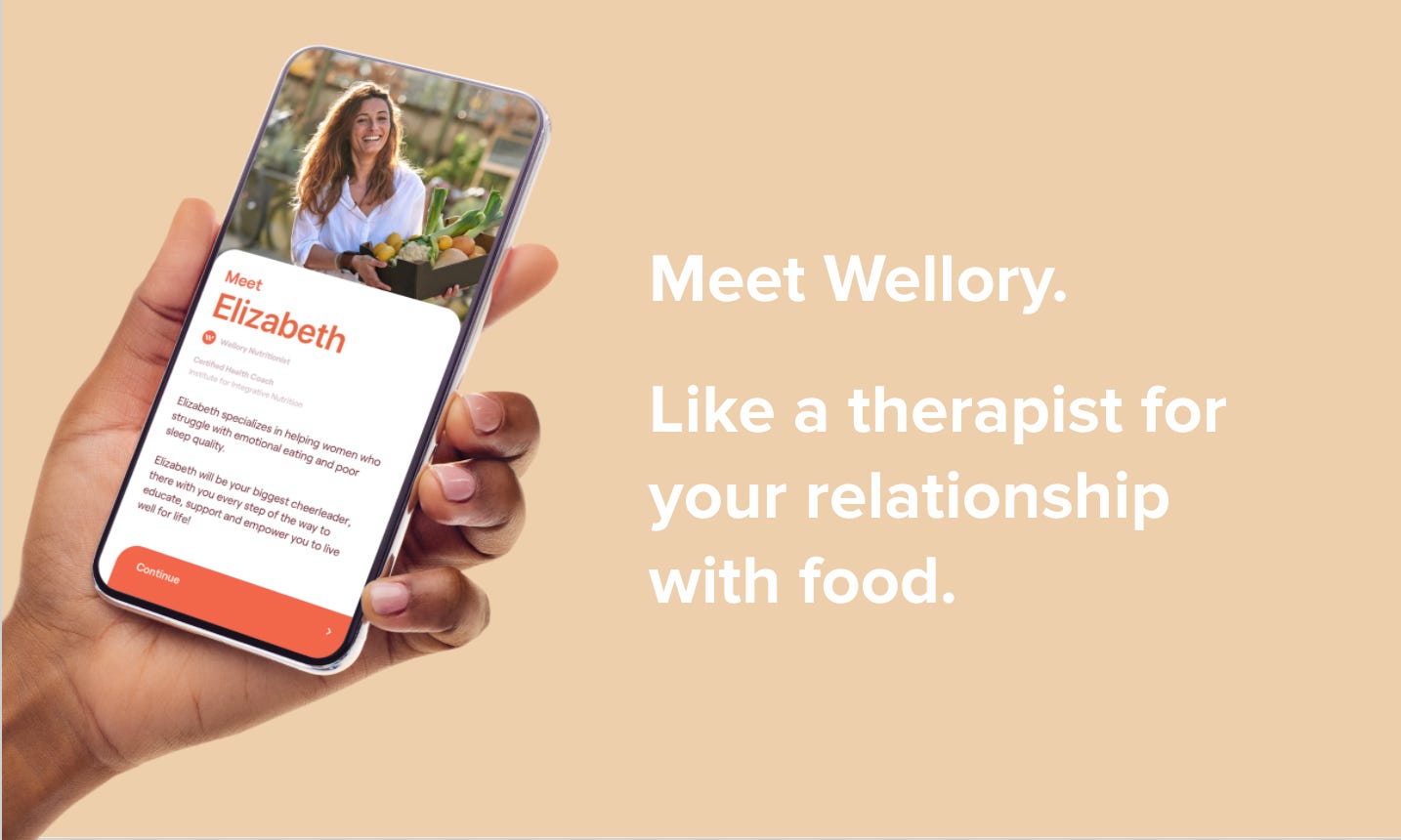 (Image credit: Wellory)
I have always been passionate about food and wellness, but one of my biggest pain points has been a lack of consistency in my diet. When my friend told me about Wellory, a personalized nutrition app that matches users with nutrition experts, I was instantly intrigued. I had a great chat with Emily (CEO and Founder of Wellory) about her journey building the startup.
🌱 Genesis
Emily battled sickness constantly when she was in college. Rather than taking medication, she decided to figure out how to get healthy in the long term and discovered a solution in nutrition. She became a certified health coach and leaned into the question - how do we bring nutrition to the masses?
💡 Unique Insight
The leading cause of death in the United States is a poor diet. Research on health and wellness habits supports this.
"60% of Americans have a chronic illness, and 80% of those Americans have an illness that can be cured by diet and lifestyle.
I also studied the supply side of the market and realized that other health coaches, nutritionists, and dietitians were suffering too. Wellory was born with the goal of bringing hundreds of millions of Americans together with hundreds of thousands of nutrition experts who could help build a culturally relevant brand backed by technology."
🚗 Early Product Journey
First experiment - Wellory began as a scrappy solution that connected a health coach with a consumer via SMS text messaging. The goal was to figure out if people were willing to pay to text a nutritionist/health coach.
Result: They acquired over 150 paid users for the SMS service. Customers messaged their health coaches and nutritionists very frequently.

"Our users were asking questions about what to eat, taking pictures of their food, and sharing how they were feeling about the food. They were really building a strong relationship with someone they didn't know, and trusting an expert who could help them to navigate their relationship with food," Emily explained.
Second phase - After validating the value hypothesis, Emily raised some money and started building the mobile application. Alpha testers included people in Emily's direct network, friends of friends, and a handful of Wellory's social media following.
"The first version of our app was a messaging platform with the goal of creating a space where the consumer felt like they were a part of the brand. From there, we started to build out content, community elements, scheduling, and a variety of other things that would allow us to really support our customers," Emily elaborated.
🔑 Advice for brand building
Knowing what you are doing before building a brand
"I think it is important to make sure you really know what you're doing before you build a brand. When we went into brand development, we had months and months worth of consumer data and insights.
We had sentiment analyses around what consumers thought, what they didn't like, and didn't want. We did it very early on and those insights have helped us to make more informed decisions regarding brand building as opposed to going with intuition."
Find the right partnerships
"Partnerships are key. In our case, we are a very genuine, authentic wellness company. When we think about building brands, we think a lot about partnering with brands that have a similar mission statement, and influencers who at their cores believe in what we're doing. These partnerships help us to develop a brand voice."
🤔 Challenges and key learnings
Prioritize what kind of experience you want to build
"During the first couple of months of building, I tried too many things too soon. One of the first tests we did was connecting nutritionists via messaging. We also tested phone calls and video communication. That was a lot of tests to run at the same time, but it allowed us to see what worked and what didn't work. Unfortunately, that was also a lot of time spent away from other tests we could have been running to hone in more on our core messaging experience."
Being transparent is the key to business building
"We are a managed marketplace so we have to build out both the supply and demand side. The key to business building is communication and transparency with all stakeholders. They are a part of the team. We keep them posted on where we're at and what our progress looks like. Our nutritionists very much believe in what we're building, so if they're not servicing a million people in one day, they know it's coming ;)"
🚀 Long-term goal
"The goal is to drastically change the way Americans think about food and reduce the amount of chronic illness in America. We want to create community, content, and coaching products that teach consumers how to eat, what to eat, and why to eat, so that they can start to prioritize nutrition and feel good every single day."
Check out Wellory!
---
🔥 Investor POV
Paul Murphy (Partner at Northzone)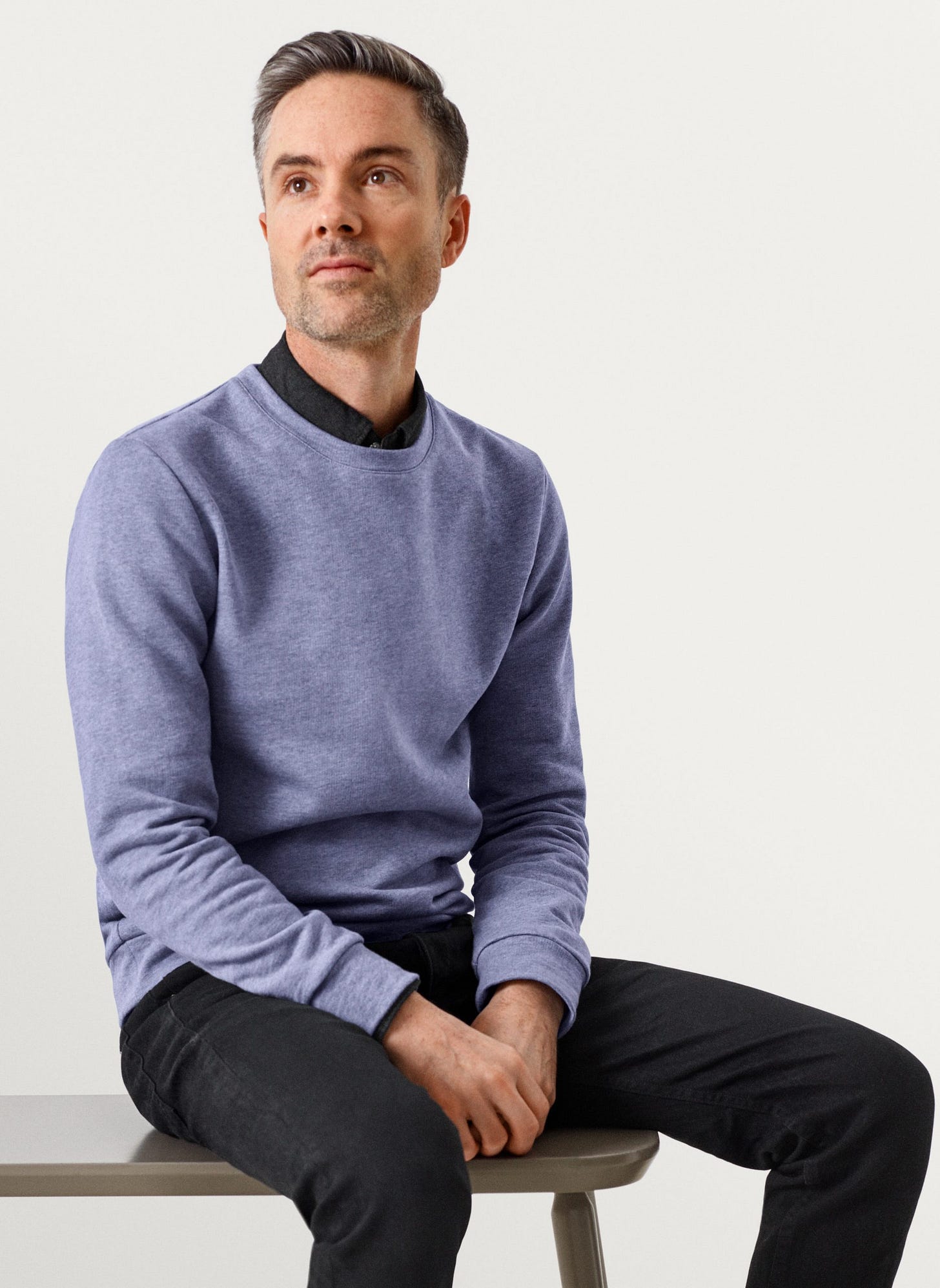 (Image credit: Paul Murphy)
Paul Murphy is a London-based general partner at Northzone, an early-stage VC. Prior to Northzone, he founded Dots, a mobile games company in NYC, and built and invested at Betaworks, a top startup studio behind companies like Giphy. He started his career at Microsoft where he served as the chief of staff for the President of the Microsoft Office Division. His previous investments include Bunch, Hopin, Klang Games, and many more.
😍 B2C trends that excite Paul
Verticalization of different tools and communities

"I think a lot of B2B and consumer companies have used these generic horizontal platforms to capture the audience. However, if you take hip-hop as an example, the hip-hop community is completely underserved with TikTok and Instagram while being the most consumed genre of music. Why isn't there something specifically for that audience?

One interesting startup is Peanut. Peanut is a social network for women [to connect] throughout all stages of motherhood. Another one is NA-KD, which is a DTC brand that allows young women to buy the clothes that they see influencers wearing. They are after a pretty narrow age band, but they are still a massively successful company."

Gaming founders starting consumer businesses

"I noticed there was a wave of founders from the gaming world that started B2B companies. The best example is Slack. What I am noticing now is a wave of other gaming founders starting consumer companies, loosely in the entertainment category."
🤔 Differences between Europe and US
Investors are different

"Generally speaking in Europe, venture capital emerges really from private equity. However, I think in the US venture capital, at least today, it kind of grew out of a set of super angel investors that were founders. A lot of European investors tend to be the former Goldman or Morgan Stanley type while US investors are at least 50/50 former founders/operators and finance people."

Companies differ depending on the regions

"Similar to the US where you see different types of companies from various regions, Europe also has different types of startups depending on the country.

In Sweden, many founders have come out of the old telcos like Ericksson and now increasingly companies like Spotify, so you will see many minimalist, design-first teams. The traditional stereotypes in Germany very much hold true. You see companies that focus on engineering and go after construction and food industries. UK is now the global capital for FinTech Startups."

Convergence

"Over time, it's starting to slowly reach an equilibrium where US funds are moving into Europe so things are starting to become less different.

COVID has been interesting because it's further flattened the world so we are not looking at geographies anymore. Founders that are starting companies are not thinking about where they're based in the same way."
👥 Most interesting founder Paul has met recently
"I will have to say Selcuk. He started Bunch, which allows people to communicate with audio and video over mobile games. I find him to be interesting because not only does he have the ability to methodically solve big problems, but he also gets everyone else excited about his solutions before he builds them.
It's such a powerful skill because he learns so much about his markets and then is able to get partners on board, recruit amazing people, and attract great investors. "
💡 Advice for early-stage consumer founders
Build a company for yourself

"Always build a company for yourself or at least understand the company well enough to be a customer yourself. I spent some time in India and I saw a lot of really great founders building companies for Western markets. However, they didn't understand them, and it was really difficult for them to scale. I see the same thing happening here."

You will know if your consumer product is working

"We spent way too much time trying to decide if our product was working based on the signals we were getting from the market. The reality is, when it works, you know, and you don't have to ask those questions. "
Feel free to reach out to me if you are an early-stage founder that is currently fundraising right now. 

I would love to help and pass on the deck to investors in my network!
---
👨‍💻 What I've been reading
---
🏀 Who is ballin' this week
---
😍 Jobs & Internships
Fulltime -
Internship -
---
🙏 Feedback
If you have reached this far, could you please take 30 seconds to fill out this quick survey? It will help me to improve the newsletter and deliver you more interesting content in the future. Means a lot to me ♥️.
---
Vote!