Discover more from Consumer Startups
How your favorite startups found product-market fit and got their first 1000 customers
Over 13,000 subscribers
🗞 Online event platform that actually builds community
+ Take back control of your data
Hey there! Welcome to my email newsletter. My name is Leo Luo, a student entrepreneur at the University of Michigan. I write about founder stories, trends, fundraising, and unique behaviors in the consumer startup space. 
Feel free to check out my previous posts here.
---
🔥Story time
Online event platform that actually builds community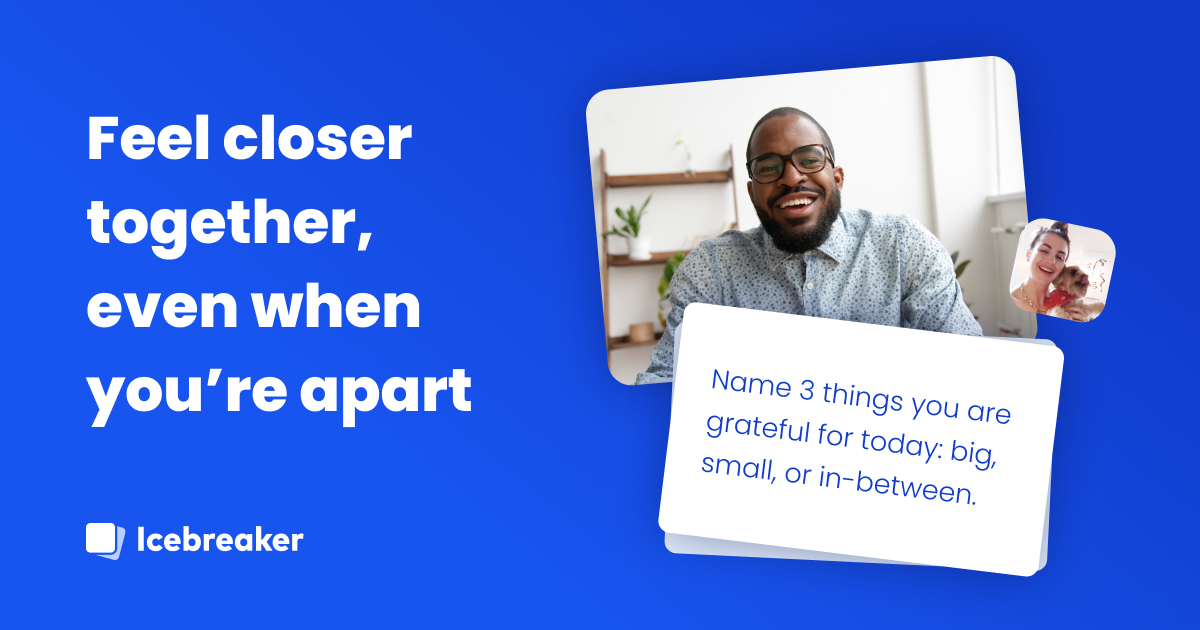 (Image credit: Icebreaker)
Since the quarantine, I have been going to different networking events and trying to meet more people online. Most of the events were hosted on Zoom - even with the breakout room feature, I still felt like something was missing.
I couldn't grasp what it was until I tried Icebreaker. Most recently, I attended a virtual brunch event organized by my friend David on Icebreaker. Even though it was an hour, it felt like 15 minutes. I was able to interact with the entire group (I was even put on the spotlight once lol ) while also having guided one-on-one conversation games with people in the group. It felt exciting and intimate. As a big fan, I decided to reach out to Lisa, one of the co-founders of Icebreaker, to learn more about the story behind this product.
🥚 Lisa's story and the birth of Icebreaker
Community building has been a constant theme of Lisa's story. After college, Lisa worked on a lot of political campaigns where a big part of her job was to build a community and bring people together. In 2015, She joined the MIT media lab as a product manager for Electome, a tool for newsrooms that used AI to track the public response on Twitter to the 2016 Presidential Election. The goal was to help journalists better cover the election and elevate the issues that people cared about. During that experience, she gained a deeper understanding of polarization and tribalism among different political communities. 
Her expertise in politics and polarization on social media led her to Facebook where she was hired to lead the effort to reduce polarization and build communities and empathy on the platform. Not only did this experience provide her with more tool kits for building communities, but it also gave her tremendous insights into the rapid rise of digital communities. After two years, she left Facebook and decided to start a new platform that would, from day one, have the values of inclusivity, humanization, and joy of storytelling and help people in online communities to build meaningful relationships with each other. 
Both of her co-founders also had extensive experiences in the space and are equally passionate about building communities. They have the perfect founder-market fit to tackle this issue. 
🌱 MVP
The very first MVP they had was just a single landing page with one button. The goal was to build an easy tool for people to match and have a conversation. They decided to build a simple page where you could just click on the button and you would be able to match and video chat with a person also on the page. From there, they iterated on that initial MVP, made several design changes, and added many other features, such as the chatroom.
👥 Customers 
Like most successful software company, Icebreaker had customers from the beginning. The first pilot customer was a political organization called Everytown for Gun Safety, which was a large organization with hundreds of staff and tens of thousands of volunteers. They were able to create a close feedback loop with the organization, allowing them to quickly receive feedback and iterate. 
From there, they also mapped out almost all types and sizes of communities that might exist. They were able to find one partner for each of these categories, acquiring over 40 diverse organizations as early adopters of the platform. This diversity of partners allowed them to understand which communities would work the best with Icebreaker. They identified three traits: 1. a large community that is physically distributed 2. members care about the community as a whole 3. people are not connected to others in the community on a personal level.
Currently, Icebreaker has been a popular platform for numerous use cases, including college admission events, corporate training and happy hours, and even dating events. They are growing rapidly and have been able to achieve an amazing level of retention and NPS. 
🌟 North Star Metric
Icebreaker's main metric is the 40-day retention of event hosts. Since Icebreaker is quite a viral and sticky product, its growth has never been a big concern. However, to grow sustainably, they have to make sure to retain the hosts on the platform.
👀 Vision
Lisa and her team have quite a grand vision for the future of Icebreaker - the place where meaningful conversations happen online. "One of the really exciting parts of our vision is building the world's greatest library of conversations and events. Right now, if you go to icebreaker.video/templates, you'll see we've published 30 or so templates that you can choose from and use for happy hours, celebrations, team building workshops, and even challenging but important conversations with your team about power and privilege. But this is just the beginning. We want to enable every expert, every author, every community builder, every founder, every facilitator to not only design and host incredible events — but also publish and promote their templates to the public. We aspire to be both the platform that enables these gatherings and conversations to take place, as well as the marketplace for expertly designed conversation content."
Can't wait to see what they build next 😍!
Take back control of your data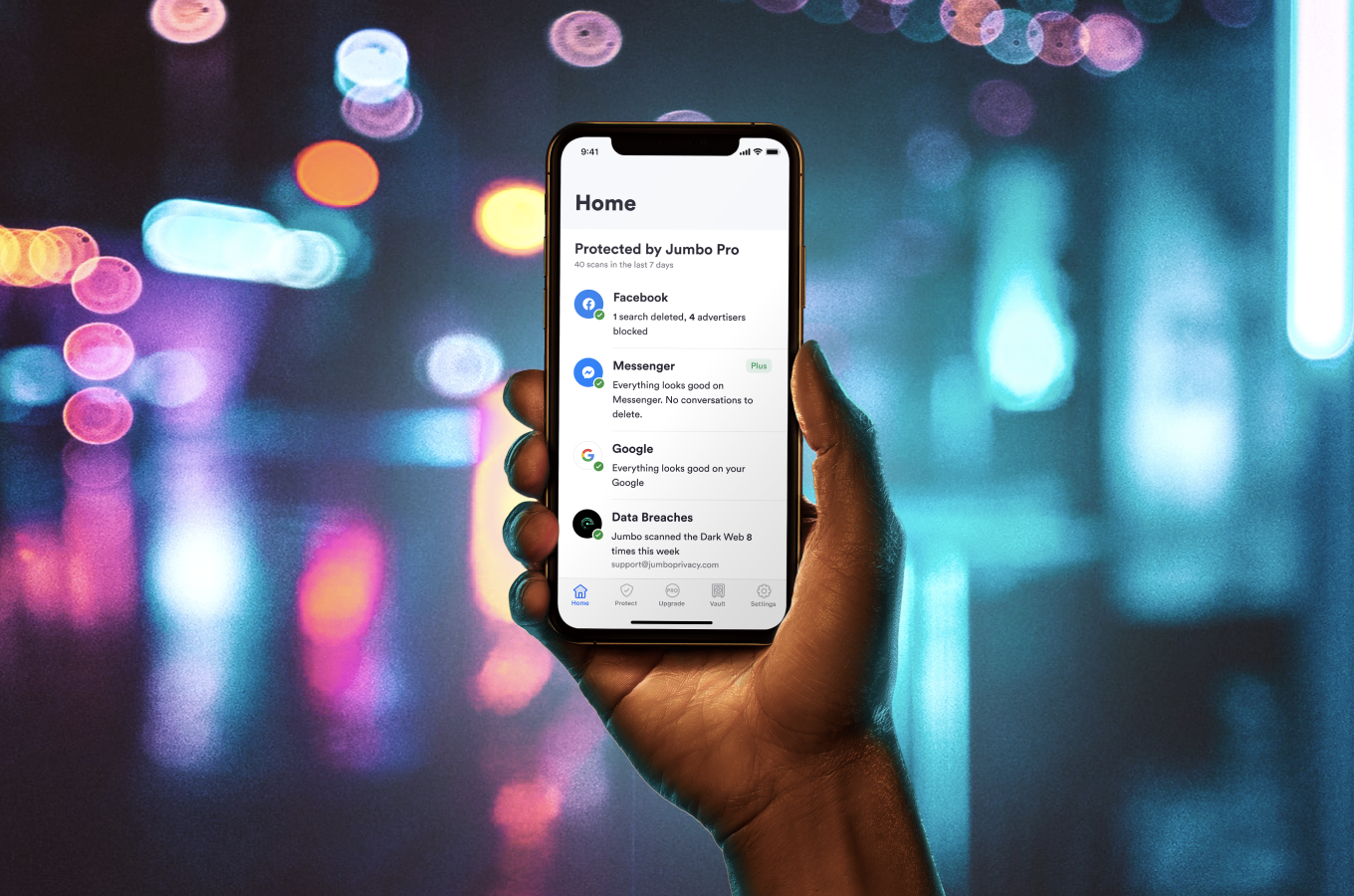 (Image credit: Jumbo)
There are many issues with those online services we are using today. The biggest one is privacy - complicated terms of services and the evil default settings make it impossible to understand what personal information is being circulated on the internet or even on the dark web. 
😤 We deserve to have control of our personal data
Pierre, the founder of Jumbo Privacy, has experienced this frustration first-hand. "I remember it took me a few days just to find, understand, and update my privacy settings on my internet and social media accounts. And I am a tech-savvy person! If it took me that long, how long would it take my mom?" I certainly have not dared to try looking through those terms of services, but I have experienced how scary it could be to have your personal information leaked. Last week, I just found out through the UMich Meme group that thousands of UMich students' account names and passwords have been leaked on Reddit. I spent two hours just trying to change all my passwords. 
🌱 Jumbo's mission and initial hypothesis
Jumbo's mission is to empower people to take back control of their data. Pierre's hypothesis when starting the company was that if privacy were convenient, a lot more people would take steps to protect their privacy online. This hypothesis has proven itself consistently since the launch of the product last year.
① Jumbo V1
For the first iteration of the product, it had three main features - 1. Tweet cleaner, deleting tweets from the internet after a designated amount of time 2. Facebook privacy control, making it super easy to change privacy settings with just one click 3. Google Search and Alexa voice recordings cleaner, cleaning private data Google and Amazon are trying to save.
② Jumbo V2
They just launched their V2 three weeks ago while also bagging a nice $8M+ Series A along the way. For this new version, Jumbo added block trackers and better data breach monitoring. Check out their recent announcement to learn more.
👀 Jumbo's vision
Jumbo has a grand vision of becoming "the place for people to protect their online privacy. "I think Jumbo Privacy will be the company you think of when want to protect your online privacy and security. Our customers have already shown us that they are willing to pay for the privacy features our team will keep building, and - most importantly - to help us build a company that will never sell our users' data," Pierre explained.
I also believe that privacy is a fundamental human right. Check out Jumbo to learn more (iOS & Android).
---
👨‍💻What I've been reading
---
🏀Who is ballin' this week?
---
💡My random startup idea
Democratize theater (Netflix for theater/zoom for theater?)
---
💬Consumer Startups group chat
I am creating a group chat for founders and investors to brainstorm ideas, share insights, and connect. Please fill out this form if you are interested. It will launch officially in the next few weeks.
---
What are you grateful for today?