Discover more from Consumer Startups
How your favorite startups found product-market fit and got their first 1000 customers
Over 13,000 subscribers
🗞 What if chat is also a canvas?
+ Easiest way to wipe your carbon footprint off the planet
Hey there! Welcome to my email newsletter. My name is Leo Luo, a student entrepreneur at the University of Michigan. I write about founder stories, trends, fundraising, and unique behaviors in the consumer startup space. 
Feel free to check out my previous posts here.
---
🔥 Story time
What if chat is also a canvas?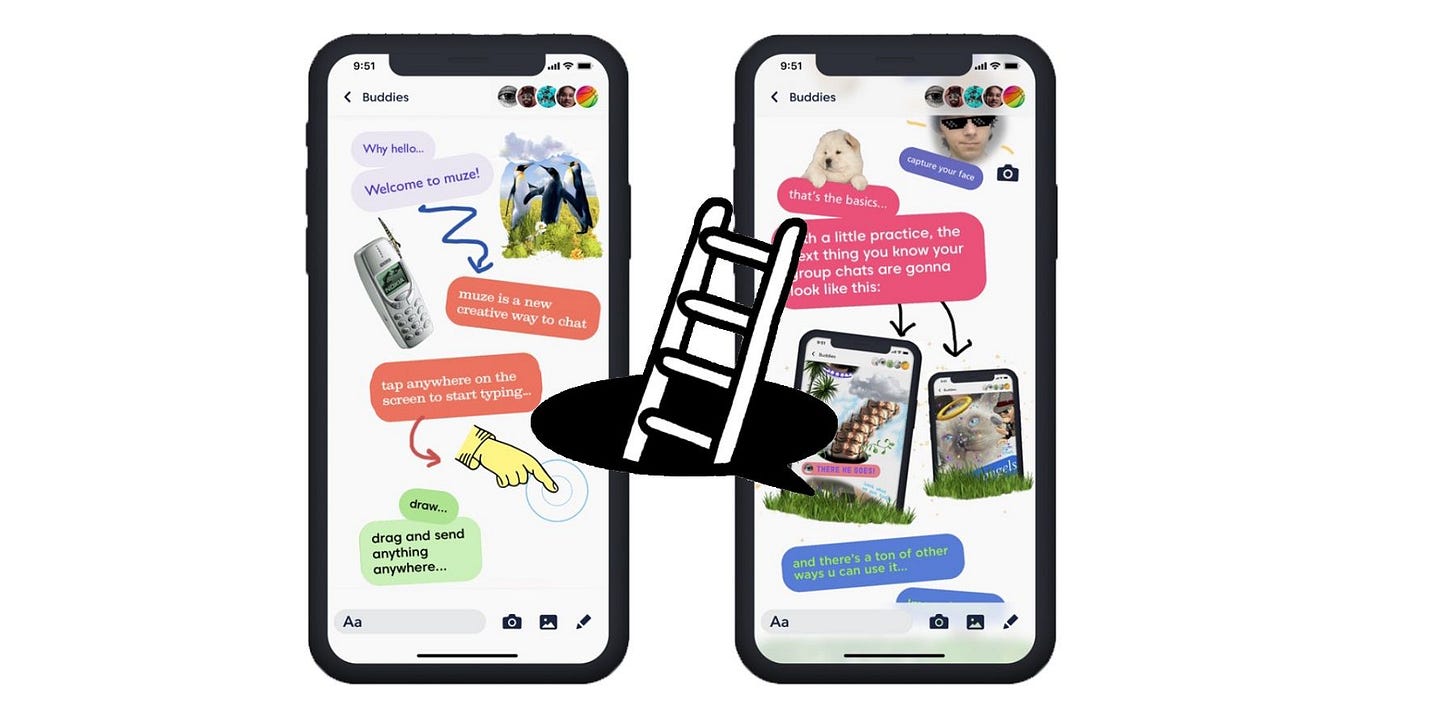 (Image credit: Muze)
Muze is a messaging app for creative expressions. Each chat is like a canvas that people can draw, layer, zoom, and more. It has raised over $7M in seed funding to date from VCs including Sequoia, Maveron, Tribe and many others. I chatted with Grant, co-founder of Muze, to learn more about their founding story.
🥚 Genesis
Grant and his co-founders Willem and Doug are best friends from elementary school. They went through a phase where they became increasingly interested in experimental art. Whenever they hung out, they would get into making art.
The spark for Muze came one day when Grant got frustrated about not being able to express himself fully through current messaging platforms, and then, when pushed by Willem to be more specific, the conversation spiraled into a brainstorming session about how they could create the ideal messaging platform. Muze was born on the spot.
🔑 How naivety helped
Entrepreneurship was something Grant and his co-founders were exploring but they didn't actually have a clue about what it meant to be founders. In fact, all of them decided to drop out of their colleges to pursue this project full-time without really validating the demand. "You have to be naive to go for some of the more ambitious projects. If I had actually known more, it might have been a lot harder to convince me to take off, " Grant explained. 
They were complete outsiders, and because of that, they were able to show investors something that was completely outside the box, and most definitely, refreshing. Artists at heart, they bring a unique perspective that allowed them to really create something that's more authentic, and frankly, interesting.
p.s. In 2019, they brought on board a new teammate Fenner (now CEO) which helped to convey their seriousness to investors
🚗 Product journey
In the very early days, they spent a lot more time refining the concept and approaching the project more philosophically than empirically. "Regarding experiments, the only thing we really did early on was just talking about the concept with a lot of people over time. It took a long time to refine everything we wanted in terms of the long term vision," Grant elaborated.
When developing the product, they initially built a lot more creative features in the app but eventually decided to take them out to focus on the absolute core. Currently, they are honing in on the chat to make sure the experience is perfect and magical before expanding to other features.
🤔 Biggest challenge
It is a lot easier to build an app that people think is fun to use than to create something that's truly sticky. Grant believes that for it to become big and lasting, the app has to serve as a manifestation of change that is refreshing and authentic. It is difficult because everything Muze does has to align with that intent of fostering authenticity. Thus, they have to be extremely mindful about their branding, and more importantly, their growth strategy.
🗞 Current progress
They launched the app officially just two weeks ago and have been growing organically since. Muze has already gained some solid traction and a small group of die-hard fans. Right now, the current focuses for the team are user retention and platform scalability.
If you want to try out a messaging platform that enables more creative expression, make sure to check out Muze here.
Easiest way to wipe your carbon footprint off the planet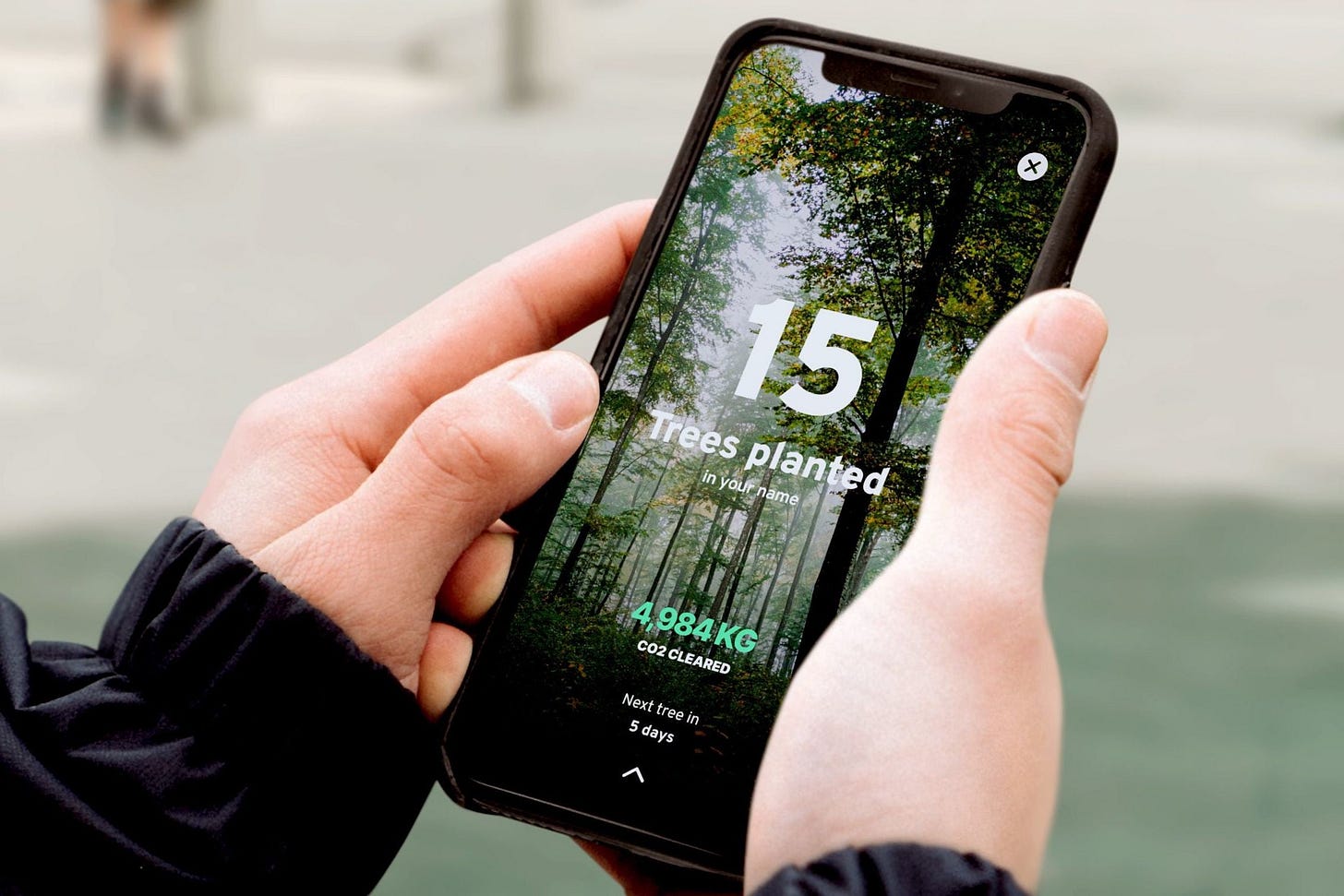 (Image credit: Klima)
Klima is a subscription-based mobile app that allows users to calculate their carbon footprint, choose the projects to offset the footprint, and track their impact in real-time. It is based in Germany and has raised over $6M in seed from the likes of HV Holtzbrinck Ventures. I had the pleasure of chatting with CEO and Co-founder Markus Gilles for this piece. 
💡 Genesis & unique insights
Before tech, Markus was involved in the NGO world, working on political communications. Over time, he slowly got more drawn into technologies, especially mobile, and started developing apps with his co-founders. After a couple of projects, they decided to tackle climate change and wanted to apply their skillsets to really make a tangible and meaningful impact.
They had three main insights. First, they noticed a clear disconnect between how much people care about this issue and how much people are actually doing to make a difference. Second, the most effective thing individuals can do to reduce emission is through carbon offset. Finally, there are many great projects that are doing a great job of planting trees or generating renewable energy but they are having a difficult time connecting to individuals - let's just say their websites don't really appeal to the mainstream lol. Markus and his team want to unlock this huge potential for a mainstream audience.
🚀 Vision
Klima's vision is to use UX to make carbon-neutral living radically easy, turning carbon neutrality into a mass movement. In the next five years, their goal is to offset 20 million tonnes of CO2 annually, which is around the annual footprint of a small European country such as Croatia. Quite ambitious but I have a good feeling about it.
🚗 Product journey
They started the project by first gathering anecdotal evidence via talking to different people. It was clear that people cared but it was apparent to them a huge potential for change was being left on the table.
At the same time, they also researched different macro trends and data and found that almost 80 million Americans would be willing to spend $20 per month to fight climate change and many are willing to spend even more. Interestingly enough, that's approximately the amount you need for an average American to be carbon neutral. 
These discoveries led to a series of design sprints and user testing to figure out the best way to leverage UX and design to reduce friction to a point that people will turn their intentions into actions. After getting some initial interest from people from those testing sessions, they launched an early signup list. Currently, Klima is iterating with its first batch of beta users.
👥 Target demographics
The app is designed for mainstream but the persona Klima is targeting first is the millennial audience such as young professionals that are well aware of the climate situation but might be too busy to find a form of activism that suits their lifestyle.
Furthermore, Markus and his team are also looking for active social media users that love sharing content. Since the bigger vision is to turn carbon neutrality into a mass movement, it is important to allow people to celebrate their carbon offset milestones by sharing them on their social media.
🤔 Challenges
Climate change is a tough problem to tackle. There are two main challenges for Markus and his team - 1. how to make sure the projects they source are the best 2. how to become a part of that shift in the public mindset, helping people to understand that removing carbon footprint should be just as commonsensical as not leaving garbage on the street. Tough problem to solve but definitely exciting.
Best of luck to Markus and his team!
---
👨‍💻 What I've been reading
---
🏀 Who is ballin' this week
---
😍 Jobs
---
🙏 Feedback
If you have reached this far, could you please take 30 seconds to fill out this quick survey? It will help me to improve the newsletter and deliver you more interesting content in the future. Means a lot to me ♥️.
---
Go for a walk!