Discover more from Consumer Startups
How your favorite startups found product-market fit and got their first 1000 customers
Over 13,000 subscribers
🗞Lessons learned from my first startup in college
+ FB's big baller move - Shops
Hello, and welcome to Consumer Startups, a weekly newsletter to keep you informed on recent stories, trends, and developments in the consumer space. This newsletter is created by me, Leo Luo, a student entrepreneur at the University of Michigan. I am currently working on a product to provide an aggregator platform for virtual events and live-streams.
---
Story time
Lessons learned from my first startup in college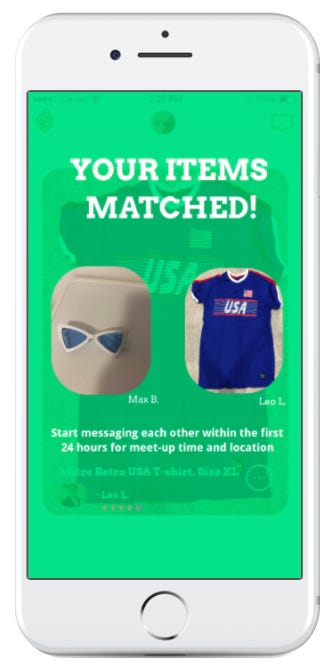 When I was interning in Tel Aviv last summer, I caught the startup bug. I convinced a couple of my roommates, who were also interns, to work with me on this "next big thing". I had seen the Social Network, and I was almost certain that we could make it work. In essence, the idea we had was to create a Tinder for items app to help college students to exchange used items on campus. We named the startup Clipp, inspired by the famous paper clip experiment. Long story short, we shipped out a private beta with hundreds of users but we decided to move on from the project due to COVID, and more importantly, the lack of traction.  
I learned so much from that experience and wanted to share some of my key takeaways, especially for student entrepreneurs. First, it is super important to identify what is the fastest way to prove your value hypothesis at the earliest stage of the startup. A lot of times, it is doing the things that don't scale. In our case, we spent months building out the mobile app without conducting effective experiments. A big mistake. We could have easily set up a pop-up stand on campus to simulate this trading experience first to understand if there was actually a need for the product. Second, identifying the minimal viable segment is crucial. We were targeting the general college population at UMich and didn't have a strong focus on a specific segment of the population. We should have focused on a niche segment initially, such as book lovers, and really own that segment before thinking about branching out to the rest of the student body. Third, choose your team wisely. We had mostly business students on the core team. Due to the overlaps in our skillsets, there wasn't a clear distinction in each person's role on the team. I personally believe that finding a technical co-founder is the single most important thing to do when starting a tech company as a non-technical founder.
I have many other learnings from this experience that I haven't talked about. If you think this is interesting to you, please reply to this post and reach out to me. I will dedicate a more in-depth medium article to this if there is enough interest!
FB's big baller move - Shops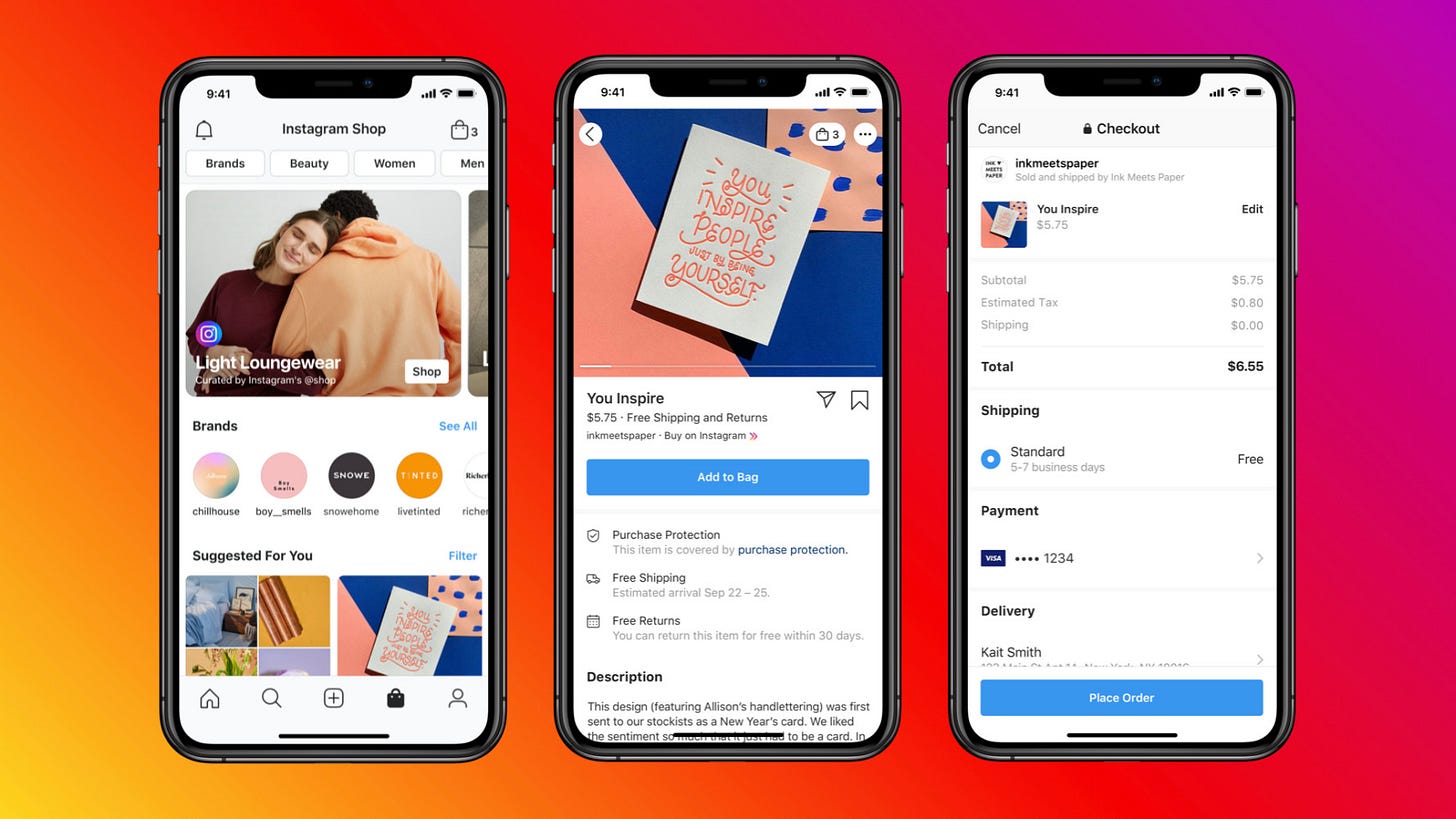 (Image credit: Facebook)
Just a few days ago, FB announced the roll-out of Shops, an in-app feature that allows consumers to directly buy items from a FB Page or Insta profile. If you read my newsletter from two weeks ago, you might be a bit confused because I talked about Shopify's Shop app which sounds exactly like this new FB feature… so did Shopify just get Zucced? Not necessarily. Granted, both FB Shops and Shopify Shop are competing for consumers' attention but FB is actually partnering with Shopify to deliver this new feature. FB helps merchants to customize how they want to display their items on their social media pages while Shopify is the engine that enables the inventory management and fulfillment process for those merchants. 
This is perhaps the single best decision that FB has made in a while. Idk what took them so long. Social commerce is clearly the future as people are more and more inclined to buy items from their trusted brands and influencers. FB will most likely see a rise in its advertising revenue as brands will likely double down on their in-app marketing spending. Amazon might be seen as the biggest competitor but don't sleep on TikTok. In fact, since the end of 2019, Tiktok has been playing around with its stealth mode shopping cart feature which enables creators to sell products on their posts.
My bold prediction - TikTok will become the biggest social commerce app in the US by 2025 the latest.
---
🏀Who is ballin' this week?
---
👨‍💻What I've been reading
---
💡Startup idea of the week
An AI app that measures the strength of a relationship and helps individuals to manage strong and weak ties better.
---
Stay steezy my friend! See you next week. Au revoir.