Discover more from Consumer Startups
How your favorite startups found product-market fit and got their first 1000 customers
Over 13,000 subscribers
Newsletter #23 - From yearbook app to raising 1M seed from GV
+ Beth Ferreira (Partner at FirstMark Capital)
Hey there! Welcome to my email newsletter. My name is Leo Luo, a student entrepreneur at the University of Michigan. I write about founder stories, trends, fundraising, and unique behaviors in the consumer startup space. 
Just started using Twitter recently - follow me @_leoluo
---
↺ What you might've missed in the last three weeks
09/27 - Story of Fold (Earn Bitcoin when you shop) + Jonathan Friedman (GP @ LionBird)

09/20 - Story of Amie (Joyful productivity app) + David Tisch (GP @ BoxGroup)

09/13 - Story of Artifact (personal podcast) + 3 interesting Twitter threads
---
🍽 Today's menu
Startup story - Story of HAGS (high school social app)

Investor POV - Beth Ferreira (Partner at FirstMark Capital)

Twitter threads - 2 interesting Twitter threads

What I've been reading - 5 articles about startups and investing

Who's ballin' this week - 6 new fundraising/developments in B2C space

Jobs - 12 full-time jobs and internship postings

Feedback - help me to deliver better content to you
---
🔥 Startup Story
From yearbook app to raising 1M seed from GV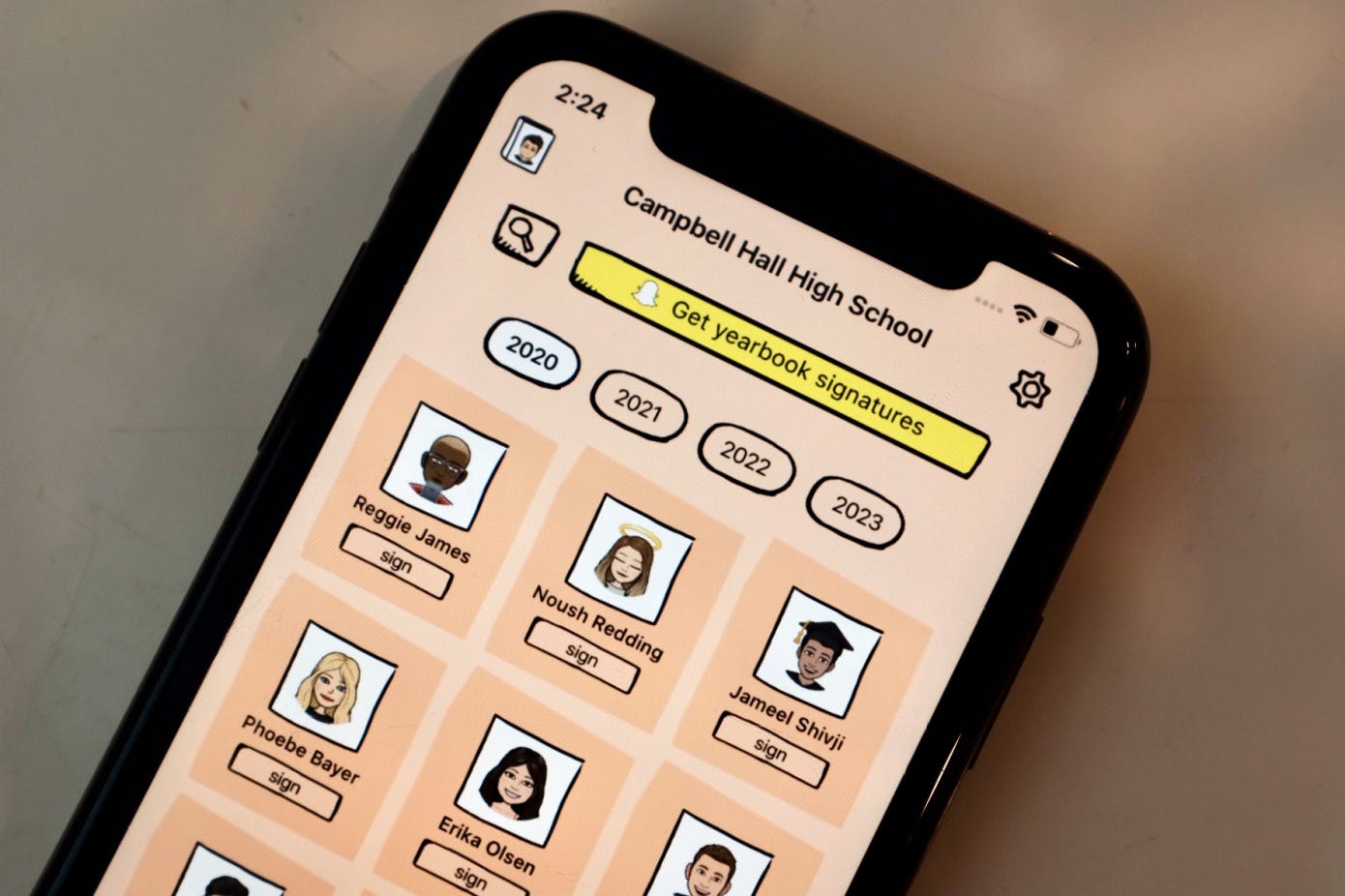 (Image credit: HAGS)
HAGS (aka Have A Good Summer) is a social app for high schoolers. Their first iteration was a virtual yearbook app that allowed high schoolers to leave messages for friends. The HAGS team is young, but they've successfully acquired over 40k users and raised over $1M from Google Ventures and BoxGroup. I had a lot of fun chatting with the CEO Suraya who talked to me about the team's experience and learnings from building the product. 
🌱 Genesis
Suraya and her brother, Jameel, came up with the idea for HAGS while quarantined at home. Jameel had just graduated high school and they were talking about the many moments Jameel and his friends were missing due to COVID-19's severe impact on public health. Those seemingly unrelated conversations led to discussions about creating a digital yearbook based on Snapchat aimed at making up for some of those lost moments.
💡 Brand
Suraya, Jameel, and HAGS' third co-founder James want to create a fun, chill brand that inspires nostalgia for users. One of their leading insights is the notion that high school students are constantly being told what to do. Suraya and her team want to create an application that allows people to be more creative. Many of the designs are inspired by things outside of the tech world, such as animation and televisions.
🔑 How to delight high schoolers
"I believe that this age group is bored. Growing up being digital natives, they have seen many types of digital interfaces and nothing is novel to them. [Personally, I value testing weird, extreme, and different ideas because they teach you a lot about what's compelling, whether or not they end up working.] However, of course, to make the product sticky, the product has to also make them feel something and think about something they care about in real life [That's what we're trying to do now], " Suraya explained.
🚗 Product journey
Phase 1: The HAGS' team began by deciding on brand associations they wanted to emulate such as care, nostalgia, and humor. A mood board helped guide the process and any subsequent branding decisions.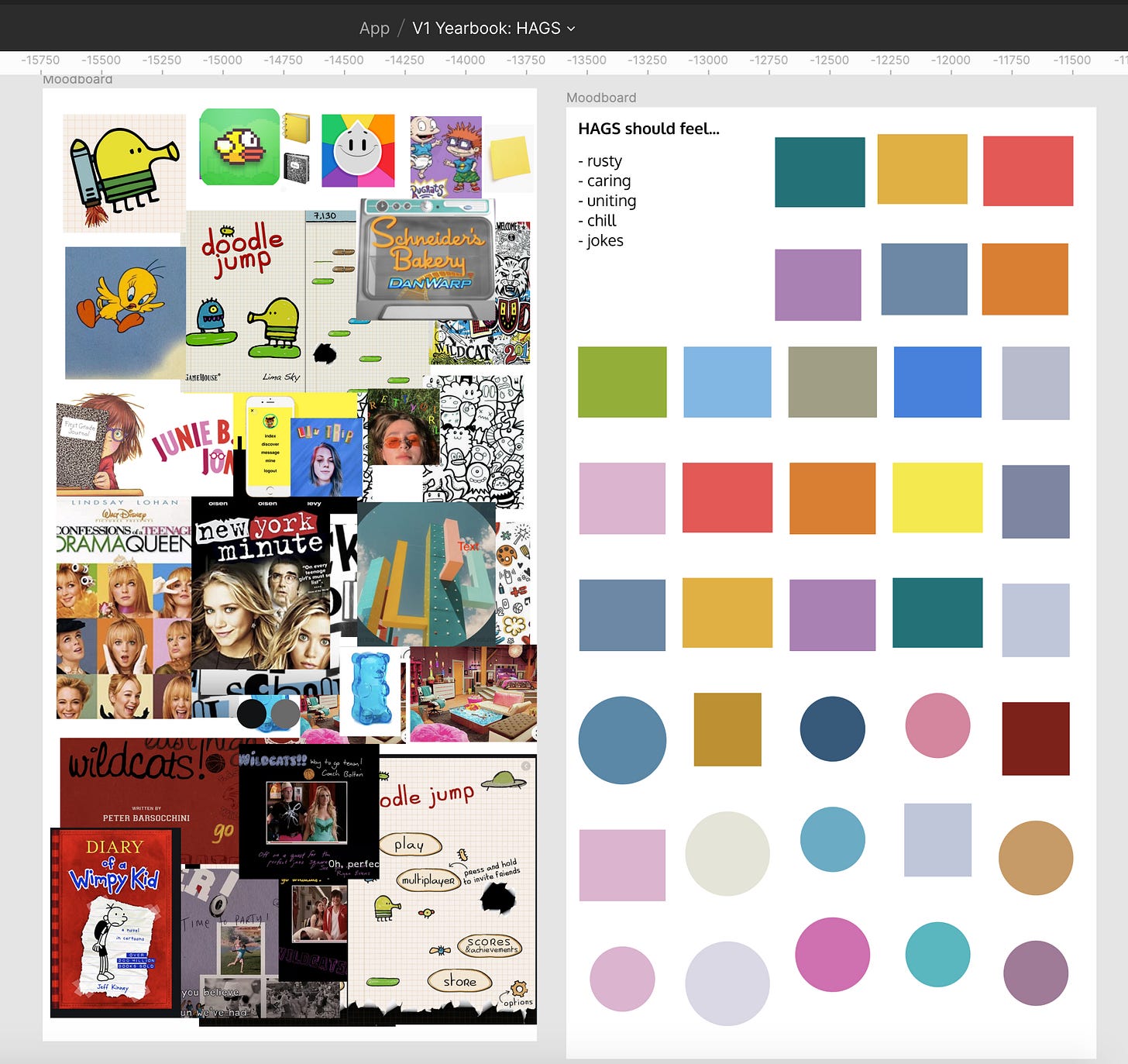 (HAG's moodboard)
Phase 2: After deciding on a direction, Suraya and her team began app development while Jameel led the effort to build out an ambassador program.
Phase 3: The HAGS' app launched a few months ago (without a beta), and has since acquired over 40k users. Yearbook was a success, and they have since been begun iterating on that success by building additional experiences. The focus is on creating a socially intimate space for high school students in their class.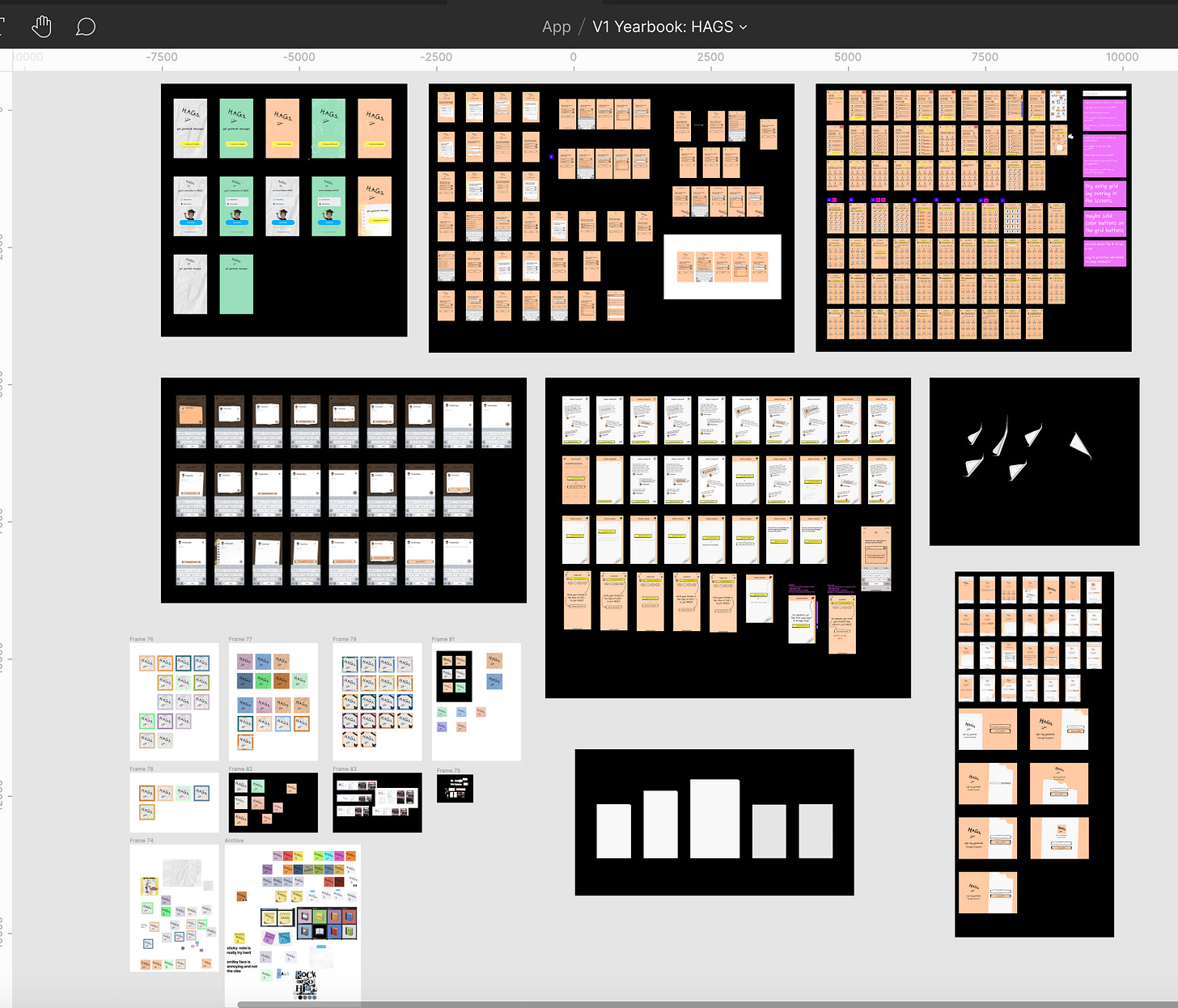 (HAG's early design iteration)
👥 Ambassador program strategy
Jameel masterminded a successful ambassador program fueling HAGS' viral growth. He began with his friends and then expanded to his friends' networks. Not long after, he was able to establish regional ambassadors who recruited additional ambassadors from their respective geographic locations.
Jameel laid out a plan for those 200 ambassadors to post weekly on Snapchat, Instagram, and TikTok. Interestingly, Jameel ran the entire distribution strategy through Instagram DMs (quite a lot to handle logistically lol).
Not only has the ambassador program been helpful for marketing the app, but it has also been useful for quick user feedback on the product.
🚀 What's next for HAGS
"Our vision has evolved over the months but our foundation is really about creating fun experiences for high school students in their class. We have a lot of exciting ideas [surrounding spaces] for high school students and their classmates. We are interested in exploring group to group dynamics between different high schools and different high school classes within a school. Many exciting things ahead of us."
Check out HAGS here!
---
🔥 Investor POV
Beth Ferreira (Partner at FirstMark Capital)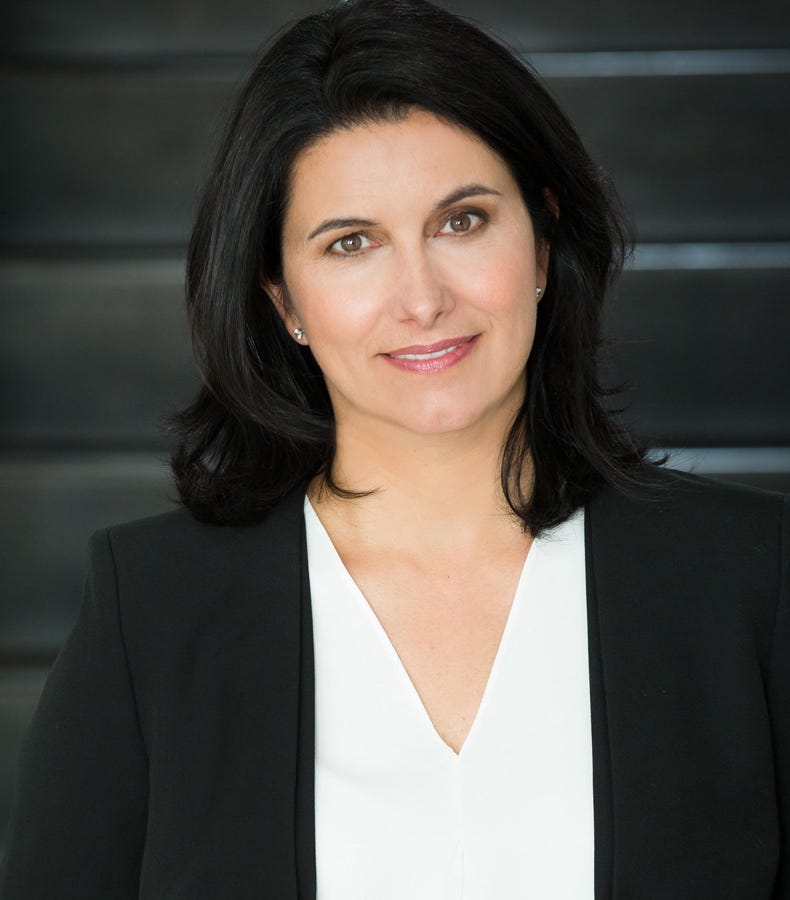 (Image credit: Beth Ferreira)
Beth Ferreira is a partner at FirstMark Capital, a leading VC based in New York. Prior to FirstMark, she was the Managing Partner of WME Ventures and led investments in Glossier, Daily Harvest, and Masterclass. She was also the COO at Fab and ran operations in the early days of Etsy. It was a pleasure chatting with Beth and learning more about her thoughts on B2C investing.
😍 Consumer trends that excite Beth
News dissemination

"We are in an unprecedented time with a lot of emotionally charged news. I think there is an opportunity to create businesses around how news is disseminated and how people share their thoughts and reactions to them."

New experiences at home

"Experiences at home are going to change. For example, there is a company called Journy. It was a digital travel concierge service before COVID and now it has pivoted to explore bringing experiences into your home, such as a cocktail class with the head bartender at Eleven Madison Park."

Tools to create or discover content

"There are a lot of interesting tools for creating or discovering content. One startup in the space I have seen recently is Yak.live, which is a TV guide for livestreams."
💡 Key Learnings from operating startups
Dealing with uncertainty

"Startup is a giant change management project that happens repeatedly at a fast pace. You are constantly trying new things, creating new processes, and breaking those processes. It takes a lot to navigate that uncertainty to get to the other side."

Creating values

"I used to say to my teams that our job here is to make today better than yesterday and tomorrow better than today. The nice thing about being in a startup is that you can have a lot of impacts." 

Staying focused

"It is important to be cognizant of the main mission and not trying to do too much. You have to identify the core thing that's driving the most value for the company and focus on that."
🤔 Thought process behind Glossier's seed round
"We came in before they developed the flywheel so there was a big leap of faith that they would achieve that. The founder, Emily Weiss, was such a force of nature that she was just going to figure it out. Emily also understood the customer better than any of the big cosmetic companies.
At a minimum, those big companies would want that expertise in their companies. On the upside, she would be able to really tap into what customers wanted and what was missing in the market. Emily and her team executed really well on that."
📚 Book that impacted Beth the most professionally
"Reboot by Jerry Colonna is great. It's his personal journey around being an investor and the trials and tribulations of being a founder. It's a good book that pushes you to do some self-discovery."
---
💬 Twitter threads
Facebook's early growth strategy
What's a rule that was implemented somewhere that massively backfired?
---
👨‍💻 What I've been reading
---
🏀 Who is ballin' this week
---
😍 Jobs & Internships
Full-time -
Internships -
---
🙏 Feedback
If you have reached this far, could you please take 30 seconds to fill out this quick survey? It will help me to improve the newsletter and deliver you more interesting content in the future. Means a lot to me ♥️.
---
Have a great day!