Discover more from Consumer Startups
How your favorite startups found product-market fit and got their first 1000 customers
Over 13,000 subscribers
🗞What about Uber for tutoring?
+ Hey there ;)
Hey there! Welcome to my email newsletter. My name is Leo Luo, a student entrepreneur at the University of Michigan. I write about founder stories, trends, fundraising, and unique behaviors in the consumer startup space. Feel free to check out my previous posts here.
---
🔥Story time
What about Uber for tutoring?

(Image credit: Gooroo)
Earlier this week, I got to catch up with a high school alum, Scott Lee, the Founder and CEO of Gooroo. Besides joking about our good ole days at Avon (the all-boys school that we both went to in CT), we also connected over our shared passion for entrepreneurship and startups. Scott told me some insider stories on how he started the company, the impact of COVID, and his vision for the future. 
Founding story 🌱
Gooroo, in short, is a Uber for tutoring app that leverages AI to connect students with the best tutors for them. Since its founding in 2015, it has raised over $5 million from VCs and renowned angels like Alex Mashinsky. 
The seed for Gooroo was planted as early as his high school days. When Scott first got to Avon, he barely spoke any English. A lot of his friends and teachers helped him to adapt to academics and life here in the US. Scott wanted to give back to the community so he started a peer tutoring club at the school to help more students. Not content with just starting a club on campus, he also decided to start a non-profit back in Korea to connect underserved children with volunteers to make education more accessible. Those experiences helped him to find his passion for education. 
As he started to dabble more in the space, he uncovered some major pain points in the current education system. For parents, there is a lack of feedback regarding how their kids are learning in schools, and it is difficult to find and choose tutors. For students, teaching adjustments are not made for each student. For tutors, there is no opportunity for reasonable income since most competitors take over 75% commission. With these insights, Scott decided to build Gooroo to offer an AI-based matching platform to reduce decision making stress for parents, measure learning progress, guarantee the perfect tutor for each student, and provide tutors with a steady flow of students at a fair rate.
Chicken and egg problem🐓🥚
The most common problem an early-stage marketplace startup faces is the chicken and egg problem. Scott straight up finessed it with his hustles. He addressed the supply side first with a focus on the college market. Before even having any customer, he would post ads on craigslist and go around college campuses to hand out a bunch of fliers to recruit tutors. Over time, he was able to gather a group of high-quality tutors and build credibility to really drive demand. As Gooroo slowly scales, the target demographic has slowly shifted from college students to K-12 students. 
COVID Impact and future of Gooroo 🚀
Overall, Scott mentioned that this lockdown has greatly benefitted Gooroo. He noticed that people are booking sessions in a shorter timeframe (within 24 hours vs within a few days) and they are booking more hours than before. Prior to COVID, there was a 50/50 split between in-person tutoring and virtual tutoring, but now every session is online. Based on feedback from parents, Scott is also confident that the majority of parents are likely to continue preferring virtual tutoring for their kids after COVID.
In terms of his long term vision for the company, Scott mentioned that the end goal has always been to make education accessible to all. Gooroo Live is one of their first steps to make that happen. "Gooroo Live offers free live webinars taught by expert instructors. It will be for students of all ages and will cover a variety of subjects. These include academic subjects like Math, Chemistry, and standardized test prep. It will also include non-academic subjects like cooking, game development, and meditation. With the uncertainty of the future, we want Gooroo Live to be a readily available resource for students and parents," said Scott. 
Fundraising 💰
For my VC readers, Gooroo is currently fundraising for a seed bridge. It is a rapidly growing company with really good numbers. There is a lead already, and the round is closing soon. Here is the link to the Gooroo's notable investors. Feel free to reach out if this deal interests you, and I can help to make the intro. 
Hey there ;)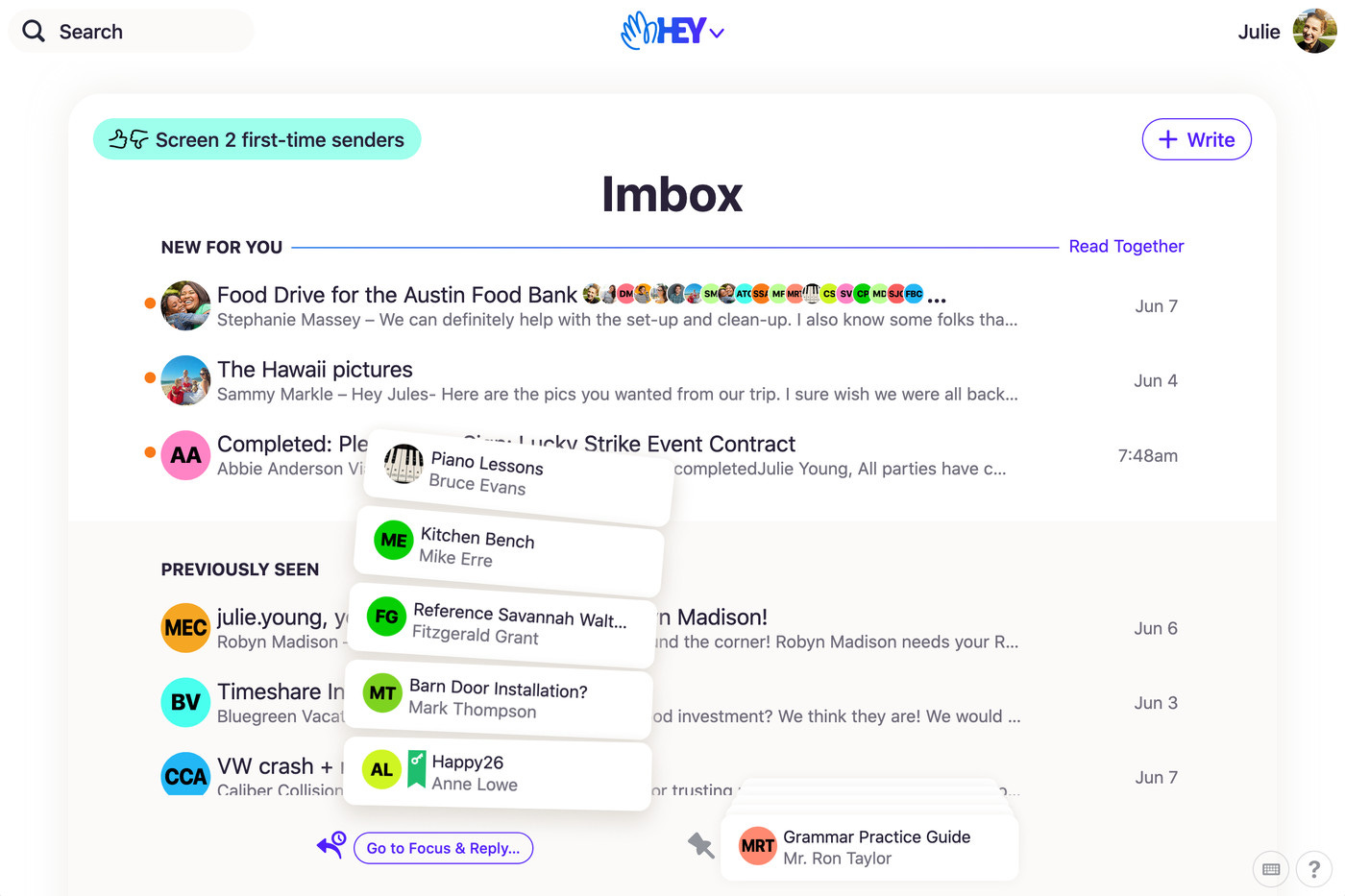 (Image credit: Hey)
Similar to Clubhouse, Hey has garnered a tremendous amount of buzz among the tech and venture communities. Everyone is talking about them. There are about 100k people on the waiting list (myself included 😉) trying to get the invite to use the service. At an annual subscription price of $99, this is pretty much a $10M ARR business already.
In the simplest term, Hey is a next-generation email service that's designed to unf**k all the problems that current email services are causing and to empower users to take back control over their inboxes (it is called "imbox" for Hey which stands for the important box). Here is an incomplete list of cool features Hey offers: 
Screen anyone who sends you an email

They have a feed that turns your newsletter, promotional emails, and long reads into a browsable newsfeed

Focus and reply feature

Reply later folder

Attachment library 
For those who are interested in learning more. Watch this full product walkthrough by the CEO, Jason Fried.
Currently, Hey is having a beef with some Apple. Long story short - Apple is mad that Hey is trying to circumvent the 30% App Store fee by charging users outside the platform. Here is a quote from Hey's CEO - "But personally, as the owner of a business, this isn't just about money. Money grabs the headlines, but there's a far more elemental story here. It's about the absence of choice, and how Apple forcibly inserts themselves between your company and your customer." Excited to see how this drama plays out 😂.
---
👨‍💻What I've been reading
---
🏀Who is ballin' this week?
---
💡My random startup idea
AI software that matches millennials to travel together as a small group.
---
Please say hi! I would love to hear from you :)