Discover more from Consumer Startups
How your favorite startups found product-market fit and got their first 1000 customers
Over 13,000 subscribers
Hey there! Welcome to my email newsletter. My name is Leo Luo, a student entrepreneur at the University of Michigan. I write about founder stories, trends, fundraising, and unique behaviors in the consumer startup space. 
Feel free to check out my previous posts here.
---
🔥Story time
*Since talking to Kevin Tan from Snackpass a few weeks ago, I have been looking at a lot of other food startups that also target college campuses. For this edition, I am focusing on two of them - Hooked and Duffl.
You got me hooked 😍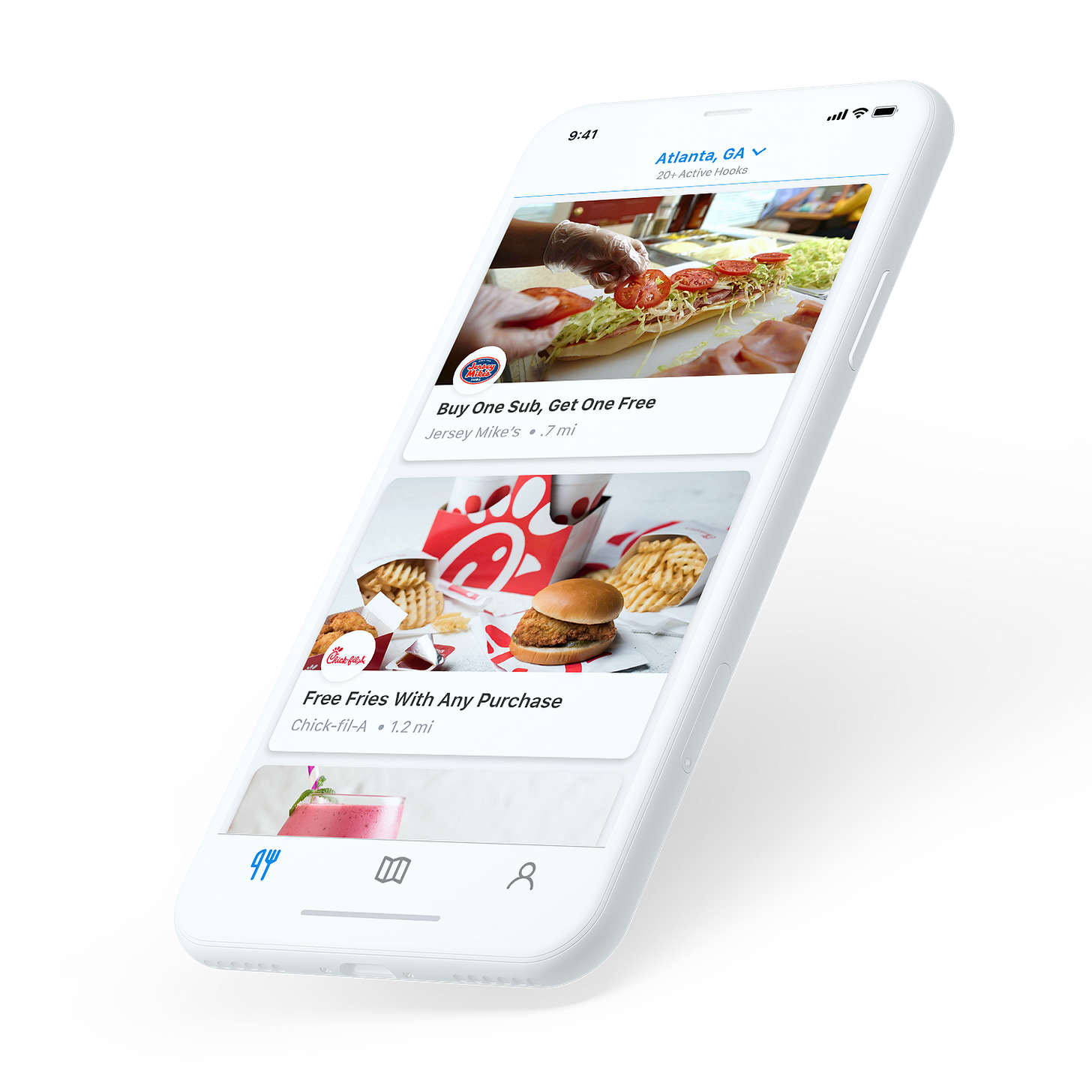 (Image credit: Hooked)
Hooked is a mobile app that helps you to find restaurant deals near you. I have been using Hooked since my first-semester junior year when I first found out about it through a random flyer in the business school. It operates in more than 50 cities and college towns. Brett, the co-founder of Hooked, shared with me some insights about the inner workings of this popular startup. 
💡Early insights
Back in the early 2010s, when Brett and his co-founder Tim just graduated college, they noticed that most of the deals platforms were not very business-friendly as they would often squeeze businesses' margins, especially for restaurants. At the same time, they noticed that they had only discovered their favorite restaurants until senior year. College students didn't really use Yelp, and it was hard for many brick and mortar restaurants to effectively use social media marketing. Since college students spent most of their discretionary income on restaurants, they decided it was the space they wanted to focus on. The vision was to create a flexible real-time deals platform that helps restaurants to get additional customers, especially during off-peak hours.
🧪Initial experiments
After talking to a ton of restaurants and getting mostly positive responses regarding this deals platform, they decided to ship out an MVP version of the mobile app. "We launched our first version of our app in Austin. It was just awful, both the interface and the experience, but we still got over 7000 students using this app. Everyone likes a deal. And it was a platform where both sides benefit. We would never try to hurt restaurants' margins but instead trying to help them monetize better, " Brett said. 
📖Go-to-market playbook
Brett also shared Hooked's secret sauce for expanding to different campuses. It is relatively easy for them to expand now since they have signed a partnership agreement with many national brands like Wendy's and Blaze Pizza; however, it was definitely a hustle during the early days.
Whenever they were expanding to a new campus, they would first hire a senior or a recently graduated student from the college to lead the launch. This launch partner would go to talk to all the restaurants to sign them up. Then, this partner would hire a team of students and lead the team to do a lot of guerrilla marketing. Greek life and student organizations were a big focus. "For example, they would go to fraternities and sororities on Mondays and tell them about the deals happening at the restaurants nearby and get them to download the app," Brett further explained. On the other hand, they never had a paid referral program since the user acquisition cost could get very expensive very quickly. WOM was by far the biggest growth driver for them.
🔑Hooked Gold
Their main revenue stream is the restaurant subscription fee for using the platform which costs about $100 a month for the restaurants. However, they have been trying to diversify the business model. Earlier this year, Hooked introduced a new feature called Hooked Gold, which is a subscription-based premium membership for customers, who will get free food and exclusive discounts each month. The growth was incredible for the first 45 days and then has slowed since COVID. Despite this slowdown, Brett is still confident that this Costco model will be really important for Hooked in the long run.
💰Fundraising
They are currently raising a $1 million round and have gotten commitments for half. Feel free to reach out to Brett if you are interested!
Fastest snack delivery service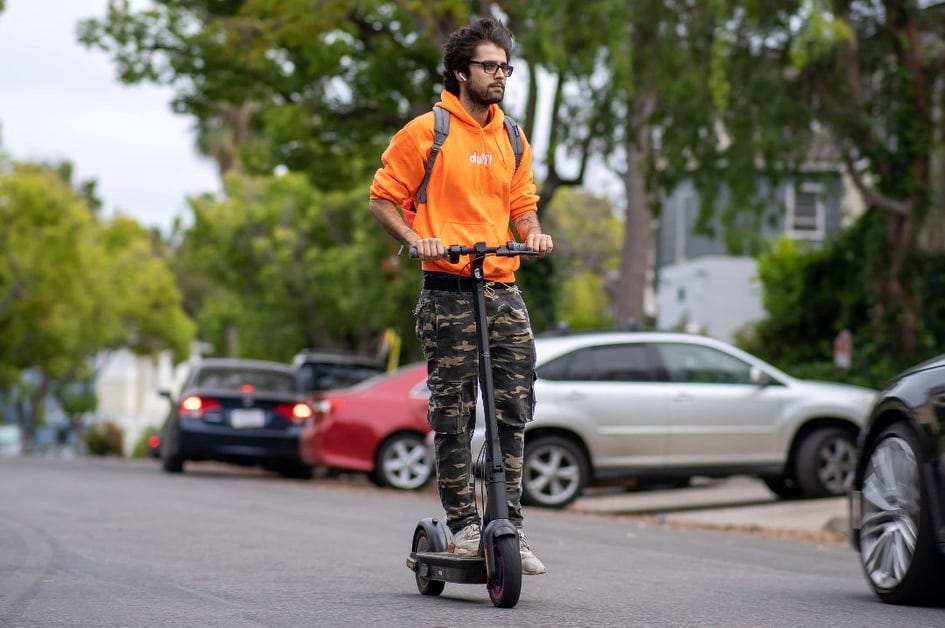 (Image credit: Duffl)
Duffl delivers college students their favorite snacks and drinks under 10 minutes. Most recently, they just graduated from the YC winter batch and subsequently raised a $1.3 million seed. Duffl is currently only operating at UCLA but is quickly expanding to other college campuses. I had a chat with David Lin, the CEO of Duffl, to learn more about the story behind Duffl.
💡Initial insight
When David first came to college, he bought a boosted board. It made his life 10X better because everything became faster for him - he could go to class and do errands in a fraction of the time as before. He noticed this new wave of micro-mobility innovations and wanted to build a product on top of it. As he continued to brainstorm, he realized that delivery service seemed to be the most obvious space for him to focus on. 
🧪Weebly site experiment
Similar to many other startups, David decided to first build a simple Weebly site to find out what people were actually looking for. He changed his Venmo name to a more business-like handle so he could start accepting payments. In the very early days, the site was just an online forum that people could use to request different deliveries. David would get a text from those requests, and then he would quickly send over a confirmation text and personally deliver those requested items on his boosted board. "It served as a general store. A lot of them were about restaurant delivery but then a significant amount of was about CPGs from grocery stores which we eventually decided to focus on," David explained with excitement. 
🌱Initial demand
Even though it was just a Weebly site, it was getting 5-15 orders a day which was quite a bit to handle considering David was also attending classes at the time. He offered three different speed options. As a customer, you could do 60 minutes delivery for free, 30 minutes for $2, and 10 minutes for $5. Most people would choose the free option, giving him more time to prepare.
Despite that, he would often do his best to deliver as fast as possible to ensure an amazing experience. "We would market the website to a lot of people and maybe 5 out of 100 actually order. But out of those five people, I was able to deliver a mind-blowing experience where they would get food delivered super quickly to the library from a restaurant that was not covered by Postmates, " David said. This incessant focus on customer delight has been the main driver behind Duffl's success.
㊙️The secret behind Duffl's speed 
According to David, Duffl's speed is the direct result of proximity. To be able to deliver under 10 minutes, items have to be stored and ready to go close to the target customers. Duffl's secret sauce has been the ability to turn any space into a delivery store including apartments. Due to this agility, they can deliver to a dense area like a college town more efficiently than a warehouse on the outskirts of the city. 
The way they store inventory is super dynamic and flexible. They curate 500 items based on customer demand data. "So the problem we have to solve is basically how do we know what customers want? How do we know how much of it to buy? How do we evaluate products individually on a performance basis? And how do we implement all that data into our platform so that customers feel like they are getting recommended the best products available? It becomes a very complicated branching problem, " David explained more about the types of questions they have to constantly evaluate. 
In fact, they are so efficient that most of their racers can deliver up to 40 orders an hour which is an order of magnitude greater than Postmates and Doordash, leading to a very desirable level of profitability. 
🔢Key metrics
Duffl's has two main north star metrics - retention and the weekly number of orders. Due to their incredible efficiency and speed, they have been able to achieve a whopping 75% monthly retention rate. Even though Duffl is only on one college campus, the number is still quite jaw-dropping. Another key metric is the weekly number of orders, There are two levers for this metric - the number of customers and the frequency of the orders. They are already dominating UCLA, and the average customer orders about twice a week. Amazing what they have been able to accomplish.
💬Advice for applying to YC
David also shared some advice for people who are applying to YC.
The best way to impress the partners at YC is to show them how much you have done already. David and his team were doing 30k - 35k in monthly Venmo transactions which really impressed the partners. In fact, they had to print out pages of Venmo transaction history because the YC partners couldn't believe it at first.

Be very clear about your thoughts on the application. "The application process is really about being very clear with your thoughts. What problems are you solving? What unique insights do you have? How do you see yourself in 5 to 10 years? Make sure to paint that picture in a very crisp, non-jargon way that makes sense to anyone who's reading it. And that will always guarantee you an interview, " David explained.

The interview is about understanding your business really well as they will bombard you with so many questions in just a 10 minutes interview. You have to know all your numbers from unit economics to economies of scale and rehearse the answers to most commonly asked questions.
---
👨‍💻What I've been reading
---
🏀Who is ballin' this week?
---
💡My random startup idea
Twitch for cooking/virtual potluck - a better way to share the cooking experience with friends and family
---
💬Consumer Startups group chat
I am creating a group chat for founders and investors to brainstorm ideas, share insights, and connect. Please fill out this form if you are interested. It will launch officially in the next few weeks.
---
🙌Favors
If you have enjoyed reading my newsletter, please consider spreading the word by submitting Consumer Startups to Newsletter Stacks, which is a centralized source for all newsletters. By doing so, you will help more people to get access to this newsletter!

Please fill out this google form if there is any cool startup that you think I should feature next.
---
Happy Holiday!